9
min read
Danielle Olivarez, founder of Highlites, is on a cannabis-fueled mission. A Miami native now living in Brooklyn, Olivarez found there wasn't a real space for cannabis users to connect in her new hometown. So, she decided to create that space herself.
Highlites is a blog, as well as a multimedia space that includes yoga, meditation and sound bath events with curated music and free food. People from all walks of life come together to share cannabis, and get in touch with their inner vulnerability in Brooklyn spaces that are influenced by the cannabis culture of Miami and California. Olivarez works with cannabis brands whose missions she trusts and aligns with, such as Hemplab NYC and Tonic CBD, among others.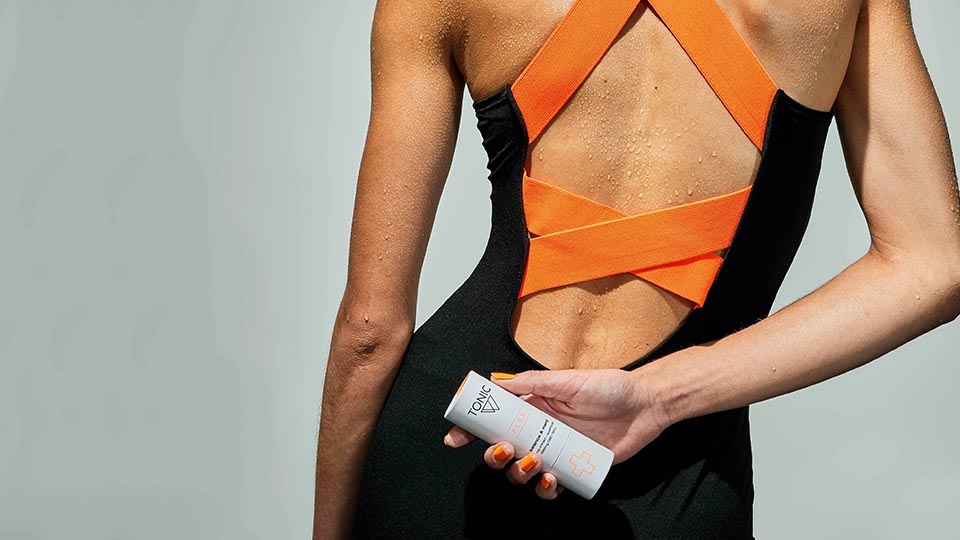 Olivarez focuses on reaching women and women of color, but all are welcome. Highlites is open, inclusive and encourages sharing. In a world that is increasingly fast-paced, hectic and promotes individuals over communities, Olivarez wants to normalize and de-stigmatize cannabis use, and educate people on how it can lead to vulnerability, connection and finding kindred spirits and acceptance.
We spoke with Olivarez about what de-stigmatizing cannabis looks like, how she combines it with yoga, talking to her family about weed, women of color in the cannabis community, using social media to connect, and how vulnerability can set us free.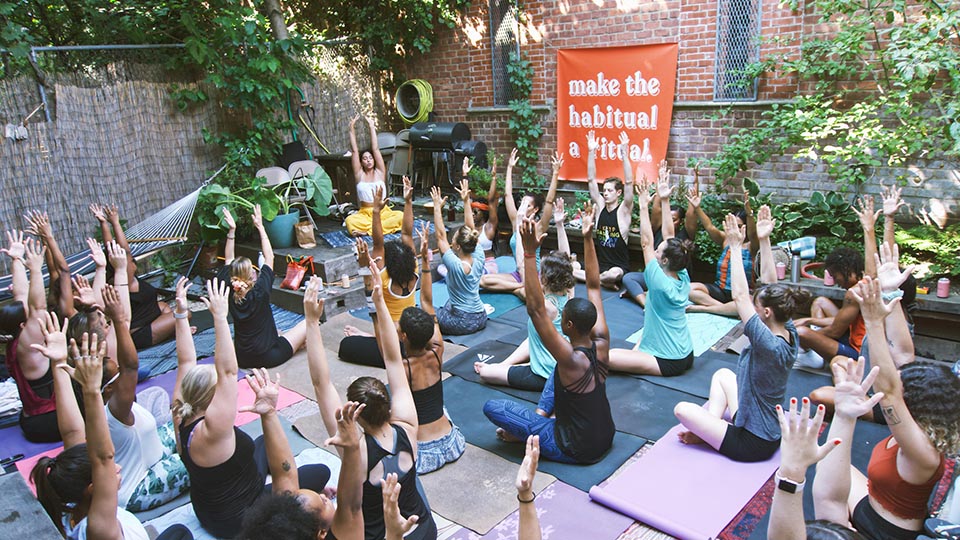 Q
How did you start Highlites, and what do you do?
A
I'm the founder and the one and only person that runs Highlites. It's a multimedia space that focuses on the de-stigmatization of cannabis by cultivating being connected to your emotions — connected to your spirituality, whatever that means to you. We focus on connecting to our vulnerability, which is so important in our lives today where it's all about me, me, me, and being selfish versus selfless. We really focus on normalizing that conversation around vulnerability, and trying to educate people on how cannabis can help. We all like to get high, but it's more than that. Especially with the stigma around cannabis. People may think it's just for burn-outs, or people who want to be lazy and not deal with the world. That's not a fair representation of people who smoke at all.
I moved from Miami to Brooklyn about four years ago. In Miami, cannabis culture is really big. Everyone smokes cannabis, like in California. When I moved to New York, it was such a drinking culture — I worked PR in fashion, and I wasn't connecting with the people I met, who would make fun of me for smoking. I needed to start a platform to find my people and spread the word on what a cannabis consumer really looks like. I totally call myself a stoner, I don't dislike that word. That's what I am, and it's fine. It's all about reframing what a stoner looks like, especially among people of color. I want to represent those marginalized voices, specifically women of color, and really teach people how to use cannabis in all of its forms in a way that aligns with their life. For instance, if you know you can't focus at your job when you smoke, maybe CBD is a good alternative if you suffer from high levels of stress or anxiety at your job, and don't want to take something with psychoactive properties.
---
Q
When you talk about multimedia, and having conversations that de-stigmatize cannabis and open people up, what does that look like?
A
I mainly host wellness events, which right now are yoga and meditation classes. I want people to see how cannabis can help them connect with their bodies, souls and minds. It's not about getting super high and moving around on a yoga mat, it's very intentional. It's more like: let's vape a little, or put a topical on, and meditate on why we are here doing this.
I hosted an event in July with a CBD brick-and-mortar store in Bushwick, and we titled it "Make the Habitual a Ritual." It was all about helping people realize they can turn their cannabis habit into a ritual. I want people to realize they can support and appreciate the plant. The plant is your friend. I suffer from depression and anxiety, and that's been part of my life for as long as I can remember. Cannabis really helped me deal with that anxiety and depression.
I really want people to think about why they smoke, and how it's benefiting them. That was the focus of that event. I started with a yoga class, a sound bath, and meditation. It was about connecting as a community. Guests were in a safe space with open air, free food and music curated by a woman in the cannabis community. It was about bringing people together in the name of our consumption and showing the world: hey, you guys have your drinks and cocktails, and we have this. It's not grimy or sheepishly done…It's very important for me to help people get in a vulnerable space. I'm the friend that overshares, I'm the friend that tells you I love you too soon, I'm the friend looking for connection with everyone around me, so I really try to bring that vibe into Highlites.
---
Q
I'd love to talk more about people and women of color in the cannabis community. As cannabis becomes more de-stigmatized it seems that white people who have access and money benefit more from this. That seems like there is a whole community being left behind.
A
Women of color are loud and proud, and making sure their voices are heard in the cannabis community. The cannabis community, especially on the East Coast, is all about collaboration, and I work mostly with people of color. It's so important that people of color are represented. There are still people in jail. For everyone who likes to smoke weed, it's great that there is less stigma, but let's not forget there are still people in jail for it, and who those people are. We need to talk about this: cannabis probably came into your life because of a person of color. We are really for elevating voices of other women of color in this community. It's about helping each other out.
---
Q
As you build the community, how do you see it affect people? What changes do you see in people who come to your events and find this community?
A
They are super grateful, because one, they didn't think it was even out there, and two, they thought it was only in their small group of friends. I always hear the same thing, which is, "Thank you for giving me the opportunity to feel safe." That's the whole point of yoga and meditation: to become more self-aware, and learn how to navigate your life in terms that work for you. Cannabis helps us do that.
---
Q
How does that differ from drinking culture?
A
Drinking culture is about who's there, what are you wearing, where are you drinking. I'm not really a drinker at all, so my experience at bars or parties where people are drinking alcohol has always been that they're loud, and rude, and not considerate of one another. Whereas in cannabis spaces, people want to share. It's so much more about living compassionately and being open to other people.
---
Q
You're saying drinking culture can shut us down to human experience because alcohol dulls your senses, whereas cannabis makes us more aware and opens us up to human connection.
A
Yes. Obviously, there is a cultural, communal element to drinking. But I also think that's because that is what society has allowed us to do. It's the only socially acceptable form of intoxicating yourself or altering your mind, and it's isolating versus opening you up.
---
Q
We're living in a world that is self-centered and promotes aloneness, whether that's through social media, or what we view as our professional lives and this constant hustle. I love the idea of cannabis disrupting that.
A
Yeah, I think it really helps to normalize vulnerability. Vulnerability to me is that you're open to expression, especially emotionally. Cannabis brings up a lot of emotions for people, so when you combine that with yoga, meditation and mindful living, that's the whole point. I want people to connect to their deeper emotions, and in turn give that back to the world. In a world that is very "I" focused, where it's, "How can I move forward?" I want people to think instead, "How can we move forward? How can we help each other?"
---
Q
What advice would you give to people who are trying to find their place in the cannabis community?
A
Social media is a powerful tool. I've been meeting friends since the MySpace days [laughs]. Follow people you look up to and relate to, and reach out to say hi. It doesn't have to be influencers. I love dating apps for meeting friends. I've made friends through Tinder and Bumble — it's not where you would think you can make friends, but it works. Also, go to events. If you feel comfortable going alone, that's great. If you have a person that is your security blanket, go out and mingle together.
---
Q
For people who still feel some stigma around their cannabis use, what would you say to them?
A
Write about it. Put pen to paper. Why do you feel that way? Whatever those feelings are, they're valid. Just because someone smokes, or follows cannabis blogs or brands, they still might not be sure how to talk about it with family or friends. Try to manifest journal it. What would it feel like to be someone who feels okay with it? It can take time. Start by bringing a vape with you when you go out, or if you're comfortable, smoking a joint at a party. And educating yourself is so important, so when you run into people who question you, you can educate them. At the end of the day, you'll be the badass who knows what they're talking about.
I've always been like: this is who I am. I'm first-generation American, and my family does not smoke. They very much had the mindset of "that's a drug, you don't do that." But when I first started experimenting with cannabis, I explained to them, like, "Mom, I don't drink, this is helping me with anxiety and helping me cope with being 16, and figuring myself out." The more that I was unapologetically myself, the more people asked questions, and wanted me to educate them, and understood me. Now my family doesn't care that I smoke, and they support me.
---
Q
My parents are the same. I also come from an immigrant family, not at all stoners, and both my parents are therapists so they weren't into cannabis at all. But like you, the more I educated them, the more open they were to it. Also, an important factor is medical use. They had friends who had cancer, and saw how cannabis helped them manage pain, and that led to a huge mind shift. When people see cannabis help people with medical issues, with pain, with anxiety, with depression — and that it's so much healthier than drinking or pharmaceuticals that we put into our bodies, it seems like a no-brainer.
A
Yeah, it's a complete no-brainer. For instance, I have fibromyalgia. Even if I wasn't a smoker, I would totally use CBD only. You can still be a cannabis advocate, or cannabis-friendly. You don't have to be all for being high or having a psychedelic experience. You can just be for helping people cope with pain.
---
Q
What do you see as the future of Highlites?
A
I would love to eventually open a space where people can come, and it be their haven. They can come to decompress from a stressful day, smoke, and take a breathwork or yoga class. There would be educational immersion, where people can learn more about the plant itself. Of course, this would have to be in a legal state, but CBD is also incredible, and I would love for people to know more about it. Continuing to bring events to cities. I just love creating spaces people can enjoy, and where people can feel free.
All Images Courtesy of Highlites | CC BY