4
min read
Los Angeles' historic Arts District, located near the heart of downtown, is unassuming at first, but don't let the grit and grime fool you.
These seventy blocks of industrial buildings will occasionally host secret shows or incognito film shoots, but are mostly home to a thriving community of artists, one-of-a-kind breweries, and the best sausages in town (looking at you, Wurstkuche).
But nestled deep in the bare, brick of warehouses and trendy restaurants are monster-infested bayous, alien planets, minotaurs, mazes, and a cocktail pouring robot.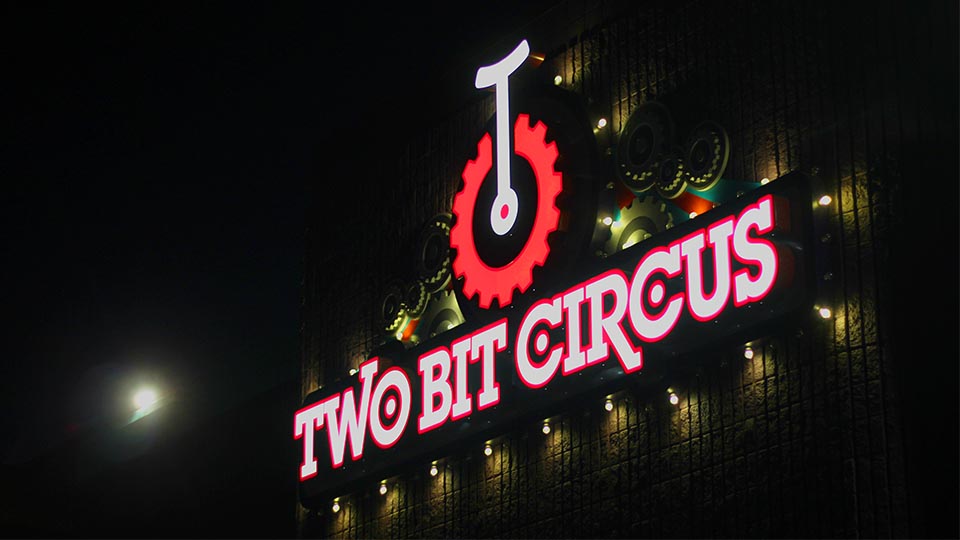 Two Bit Circus is a self-proclaimed "micro-amusement park," replete with everything from pinball machines and old school arcade games to custom-built VR rigs capable of hosting up to four players. Think lovechild of Dave & Busters and a 23rd century carnival.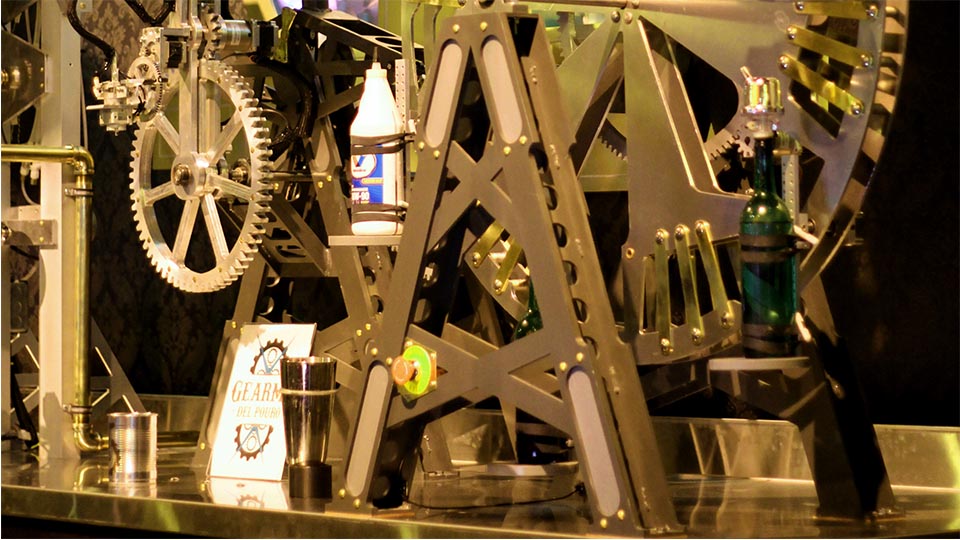 Welcome to the show
When you enter you're greeted at the front desk with a waiver, a necessity for any establishment set on the holy combination of booze and expensive VR equipment.
The Circus features a fully stocked bar in the center of the space with circus-themed signature cocktails and a sizable draught list, a great spot to socialize and observe the cacophony of fun they've put together.
Every game machine has a convenient drink holder and there's a chrome Rube Goldberg capable of creating four different mixed cocktails on command.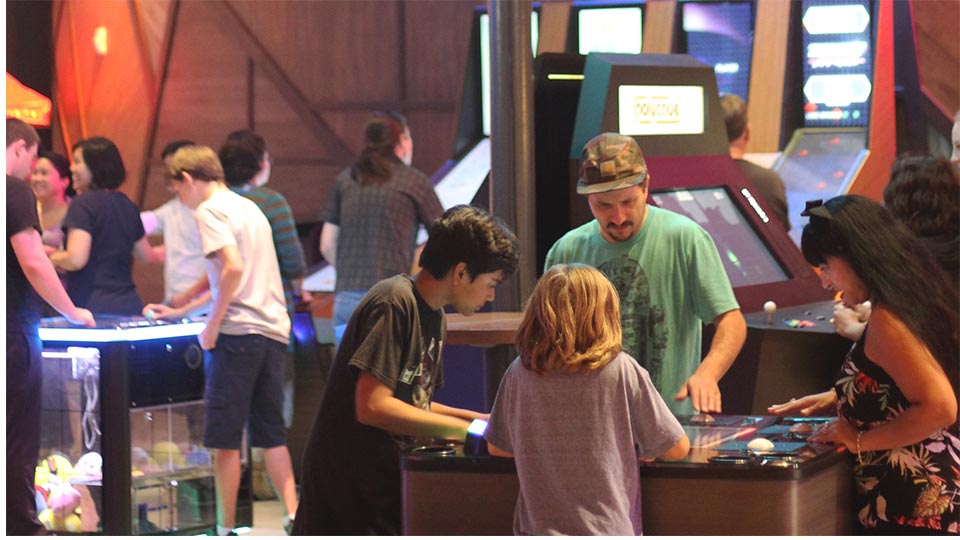 That's not to say Two Bit isn't kid-friendly.
There's an escape room and plenty of open space for kids to run around when they're not plugged into the virtual snowball fight arena or the magical dragon playpen. Not to mention their Midway section, featuring skeeball and other old-school carnie games with slick 2018 updates.
If you're hungry, Two Bit also features a great selection of carnie food with a twist, from some filling hand wraps, to multiple A+ flavors of corn dogs, fries and tater tots. It's all delicious and satisfying, but most importantly, great for quick, on-the-go eating so you or the kids don't have to sacrifice any game time.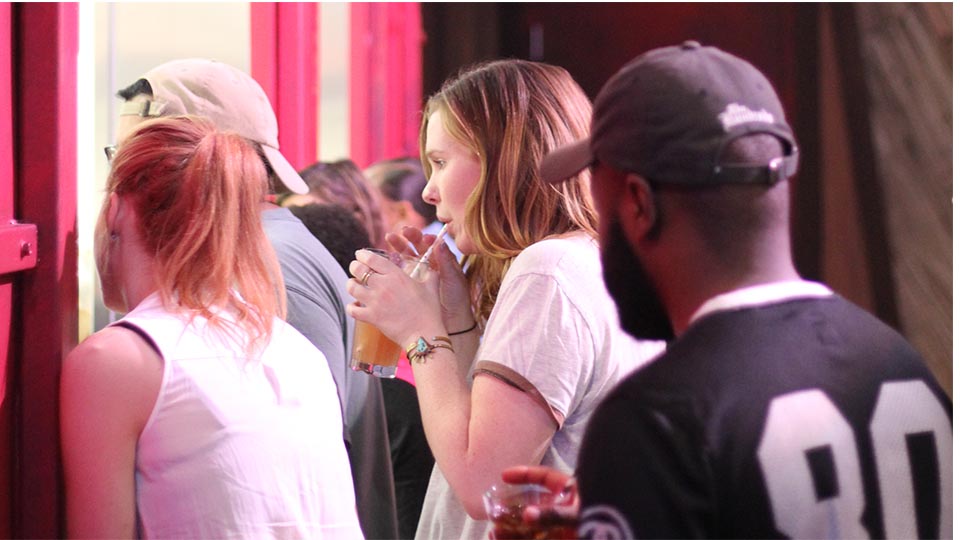 An escape from (virtual) reality
The real crowd pleaser here, of course, is the diverse range of VR experiences, curated to cater to people who've never tried it before, but with enough depth to satisfy veteran gamers.
There are multiplayer attractions like the Hologate system and the Raft, capable of placing four players in the same game to fight off monsters and robots cooperatively, or even to pit them against each other!
If you're more of a lone wolf, Two Bit Circus is also equipped with a custom-built VR maze solo experience and motion enabled cockpit pods that give you the physical sensation of a rocket launch or the inside of a tank.
For the best value, Two Bit Circus also offers their Cabanas at an hourly rate, private rooms with their own VR setups and wait service, complete with a huge screen and couches so your friends can heckle and spectate until your chests hurt from laughing.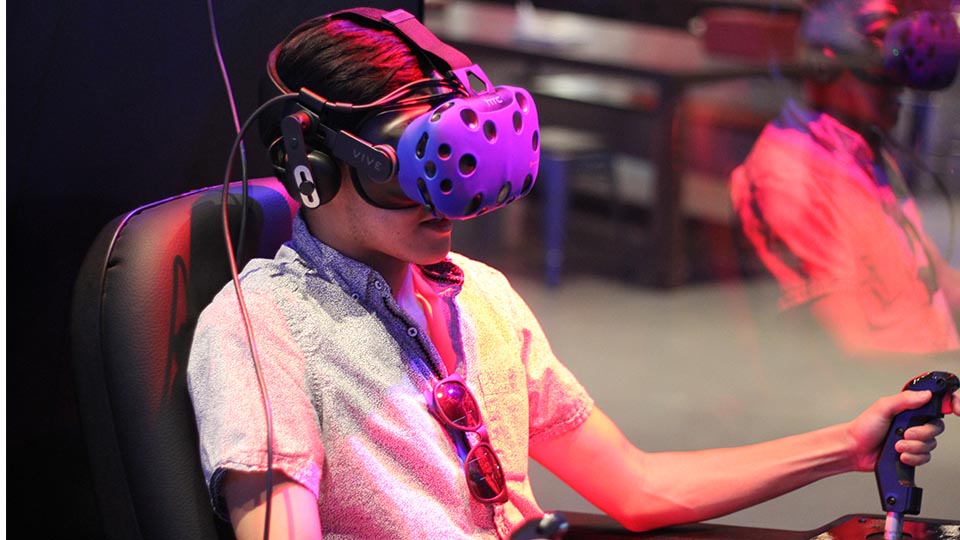 Unlike some of the other custom built VR experiences, the Cabanas are built to be flexible, giving you full access to their vast Steam Library of VR games, including breakout hits like Superhot VR (slo-mo fights) and Arizona Sunshine (zombies).
The pleasant surprise of Two Bit isn't necessarily in the games, however. Arguably, the best experiences they have to offer require more than one person. If you're coming with friends, old or new, you'll leave knowing them a little bit better, having seen their genuine reactions to monsters and gunfights.
If you're coming alone or with a partner, you'll be paired with other patrons for some of the 4-6 player experiences. While you might enter as strangers, harrowing space missions and discovering lost cities are exceptional ice breakers, you'll ultimately leave as fellow adventurers, back from the unreal.
There isn't much to be said for the draw of VR that hasn't been said already. As technology begins to blur the lines between our tangible reality and fantasy ones, it's no wonder that people are flocking to see what this new world has to offer.
Obviously, adding a mind-altering substance like cannabis into the show may be a little overwhelming for some, but for others it could take a great experience and make it even greater.
To avoid the red tape of consuming in the confines of a private business, take a few edibles beforehand and enjoy the effects as they slowly release throughout your time in VR.