7
min read
Everyday it seems like there's a new way to consume cannabis. But in the age of edibles, tinctures, patches and vapes, there's only one true OG: flower. As a long-time consumer, the explosion of infused products is just as welcome to me as it is to newcomers. Lower, more consistent doses allow me to adjust my preferred state of mind more finely than ever. A wider variety of ingestion methods allow me to enjoy cannabis in a wider variety of settings and mitigates the direct correlation between my enjoyment of the plant and the amount of tar going down my throat. That said, flower is still, and likely will always be, my favorite way to enjoy cannabis.
How I Learned
As cannabis goes mainstream, it's refreshing to see old stigmas and labels falling away. But as new brands and consumers clean up the "stoner" image, it's important to preserve what was good about this culture we used to call counter-culture. In a space that was inevitably laden with risk (significantly more risk for people of color, of course), where no one could be blamed for being stingy or distrustful, the majority of my anecdotal experience with other cannabis consumers was of kindness and respect. Particularly in areas where the political or legal climate was less than welcoming, the significance of small acts of generosity was and is tenfold.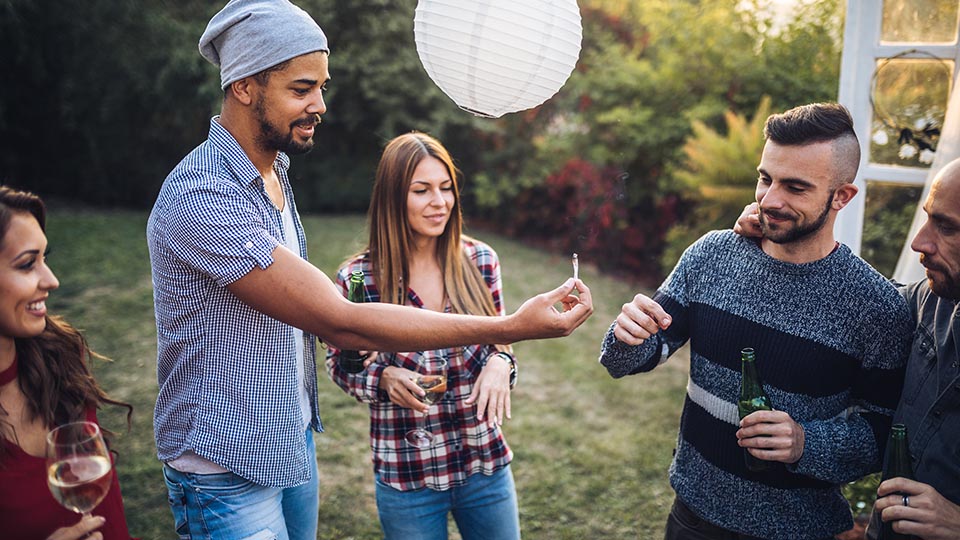 Some people might attribute this to the properties of the plant, but I like to credit the power of ritual. Not in the spiritual sense, (though that's not an uncommon ascription) but in the anthropological sense. Much in the same way that the family dinner table or the bar/pub has codified social norms and acts into the consumption of food or alcohol, so has the smoke session for cannabis. The sequence of steps required to prepare flower for a group of people has, with exception to modern upgrades like grinders and percolator-stuffed water pipes, remained largely the same. These steps have been imbued with intention in a way that perpetuates consideration to those around you, keeping this part of cannabis culture alive in ways mass media never could. Unwritten laws like "Puff, puff, pass", "don't bogart the joint" and "corner the bowl" all derive from the same basic principle of etiquette: don't be an asshole.
To Stop Coughing
It's not hard to understand why burning flower can be intimidating or frightening to people just entering the space. The health risks are the most obvious, and it requires a certain level of dexterity with a flame and a practiced control of your breath. Worst of all, a misstep can cause a flower newbies worst nightmare: the dreaded coughing fit. Where the tingle in your throat turns into ahem, then a hack and then all of a sudden you're trapped in a coughing prison. But follow the steps below and you'll be able to enjoy flower just like our ancestors have for centuries.
First up, how to prep:
(If you're partaking in a pre-roll, you can skip to the next section, this part has been done for you!)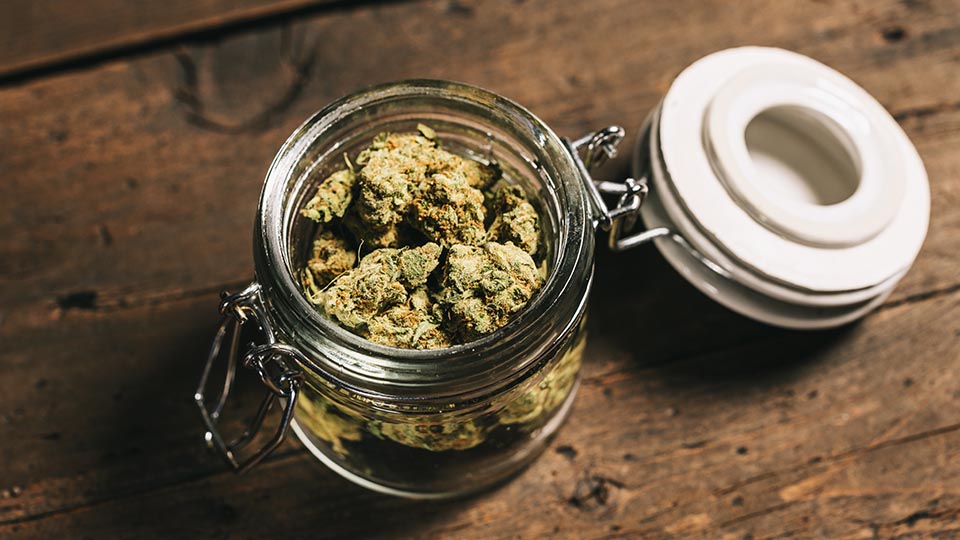 1. Take care of your flower
Ensure the flower has been kept properly. Old, dried out herb will burn faster and make more likely you pull in more smoke than you mean to. You'll want to keep your flower in sealed containers out of sunlight to keep it fresh. If you've just purchased from a legal dispensary you can be pretty certain they've taken the same care, you'll want to keep it the same quality as long as you can!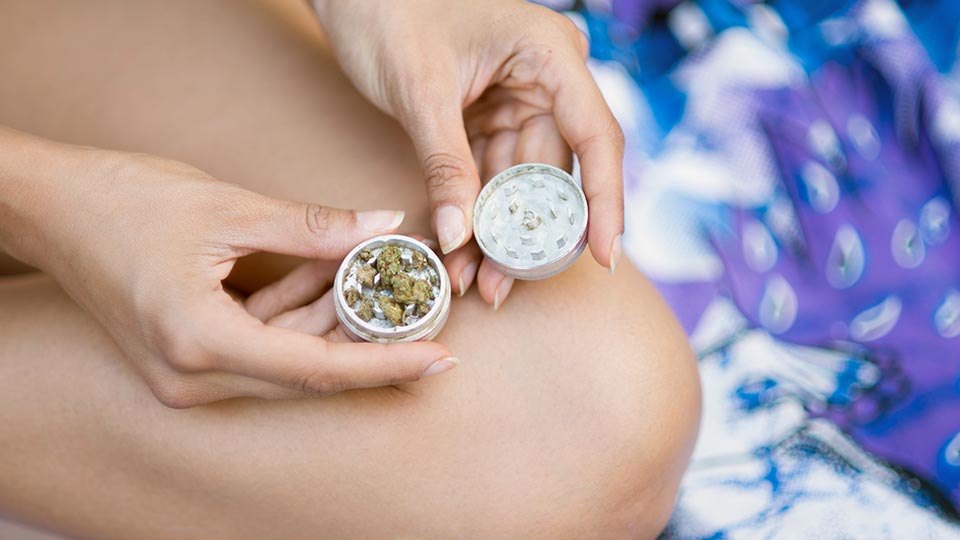 2. Take care of yourself
Gather your smoking apparati and accessories: generally a grinder, lighter/hemp wick, and your pipe/papers. Grab some water. Find some friends and a nice spot. Something like a balcony or patio is perfect but we can't all be fancy schmancy homeowners with private outdoor areas so at least make sure you're somewhere where you won't be bothered and you're free to relax. If it's your first time, a setting that you know, with friends you trust, is ideal.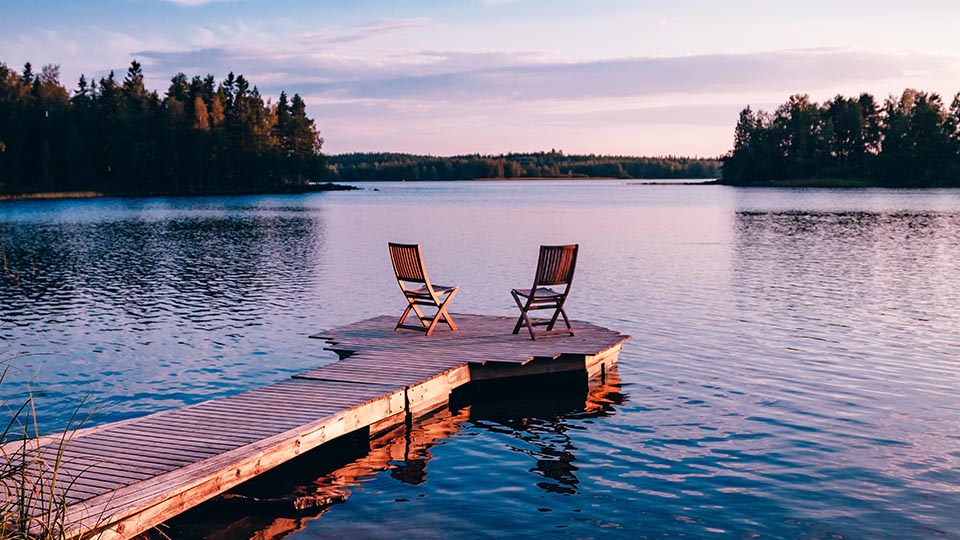 3. Grind it up
Good quality stuff should come as intact "nugs". In order to prepare them for smoking, the stems need to be removed and the flower buds themselves to be ground up for ease of prep, whether you're using a pipe or paper.  If you're so inclined, it's not uncommon to pass around the unbroken flower like an appetizer or pre-wine waft so that everyone can appreciate.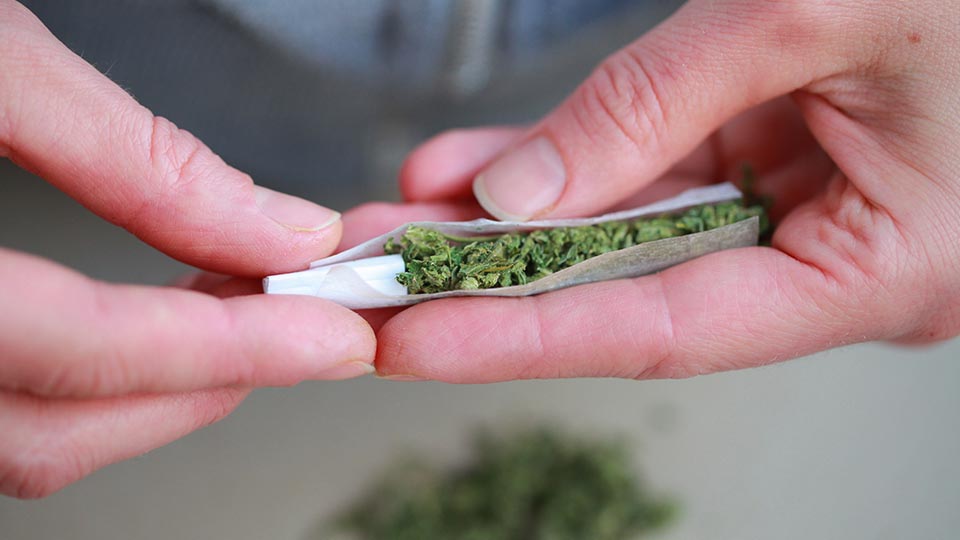 4. Pack it, roll it, put it in a stew
The easiest way to use your prepped flower is a pipe. Simply pack the ground flower into the bowl (snug and even, but not too tight) and you're good to go. If you've opted for some form of papers, there's a little more practice and dexterity involved. Tom can give you the basic gist: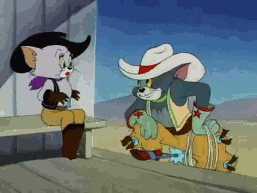 And now you're ready for, how to smoke: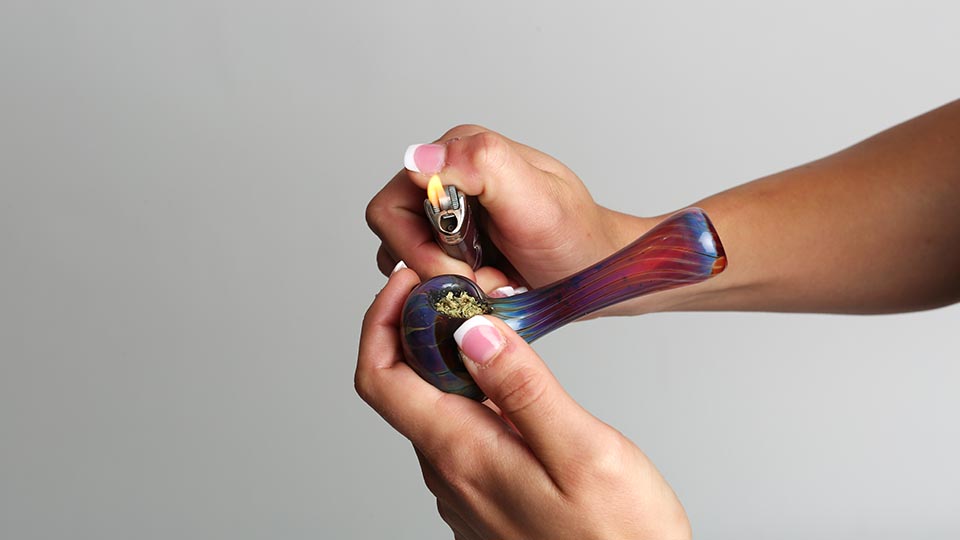 5. Light it
If you're using papers, try to light the tip evenly to prevent "canoeing", a phenomenon where one side of the roll burns faster than the other, leaving you with a sort of paper "canoe" with wasted or unburnt flower. If you're using a bowl, remember to "corner" it! Brightly colored flower, untouched by flame, burns the easiest and smoothest. For this reason, it's considered good etiquette to keep your flame from engulfing all of the fresh flower. To achieve this, just lightly touch flame to the edge of the bowl as you inhale, to "pull" the flame closer. Most people will try and keep their flame to a single quadrant of the bowl.  A hemp wick is a great alternative to your average lighter as it's much easier to control, as well as reducing the risk of inhaling the butane in the lighter.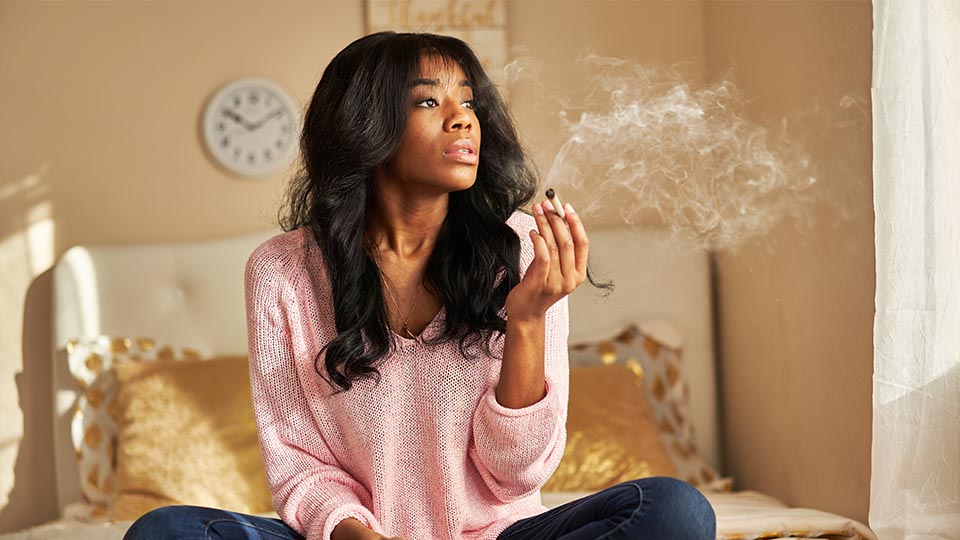 6. Puff…
While the mechanics of a pre-roll and a pipe are slightly different, the same principles apply. You want to get the smoke into your lungs and out again, with minimal irritation to your breathing. This is done by making sure you get a good amount of fresh, cool air to balance the harsh, hot nature of smoke. With a pipe, you'll want to familiarize yourself with the carburetor, the third hole on the side of the pipe. By covering it with your finger, you can control the amount of fresh air vs. smoke you're inhaling. If it's your first time, try inhaling a lung full of air, to gauge where your lung capacity is at. When you take your first pull of smoke, pull slowly to fill the pipe, ease off the carb and try to only fill a quarter of your lungs before filling the rest with fresh air. Exhale.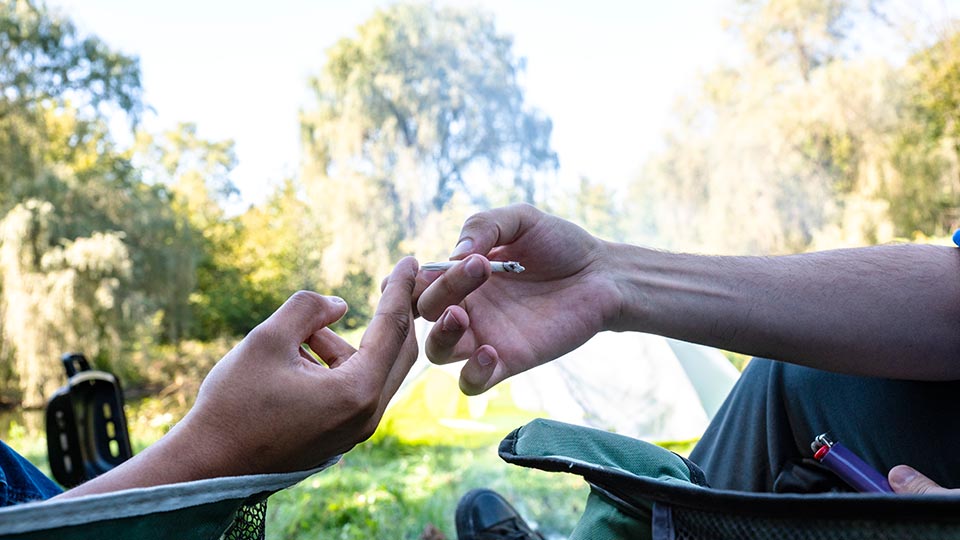 7. …puff, pass to the left
As is tradition, you're entitled to one more "puff" before passing it on. This ensures that everyone in the circle gets an equal amount. With more practice, and some trial and error, you'll eventually have a better understanding of your respiratory system's threshold for coughing and be able to take more confident pulls. Technically passing left is "tradition", but mostly it just important to keep the direction consistent. If conversation and good times are flowing, remember not to "bogart" the flower. So named after Humphrey Bogart's tendency to speak with a cigarette hanging out the side of his mouth, it's easy to accidentally hold up the circle with a long-winded story. Again, the priority here is equal consideration for your fellows.
8. All good things must come to an end
As the bowl or pre-roll comes closer to its end, you'll likely notice the flower get darker and the smoke get harsher. As mentioned as the reason for "cornering", it only stands to reason that your originally fresh and bright flower will be dark and depleted by the end. If you've had your fill, don't be afraid to give your lungs some respite and politely decline the next round. If you're feeling feisty, just remember the smoke gets harsher and harsher, so you'll need to adjust how much you're pulling accordingly.
Love the Flower
Much like a sit down dinner, or the uncorking and presentation of a wine, there's a basic step-by-step to enjoying flower. And just like group dinners and wine-tastings, each of the steps also embodies something greater about the experience. Just like the dinner and the wine, it's not so much about the food or alcohol, as it is the people you're with. It's about talking together, venting together, pondering together or really, just being together. Wherever you've been or you're at, you collectively embark on a journey of shared experience and meet each other on the same wavelength. As you grow older, as the world gets larger and relationships drift, these moments are of rarefied air. These experiences build on each other, layering over time, by tying disconnected people and moments together. In the same way that a certain dish or tablecloth might take you back to your mother's cooking, catching up with an old friend over some flower brings to mind all our old rituals, and enforcing those memories and bonds with a new one.