6
min read
When author and sociologist Dr. Victor P. Corona Ph.D. moved to Los Angeles in January 2018, the recreational cannabis scene was exploding. Coming from New York, where Corona had received his doctorate at Columbia and published his book Night Class: A Downtown Memoir (Soft Skull), an engaging, glitzy, raucous deep dive into New York nightlife culture, Corona was eager to explore new scenes on the West Coast.
While teaching classes at California State University, doing research and working on a new book about L.A. performers, Corona explored his new city. Inspired by scenes from movies and TV shows like Beverly Hills 90210, Corona struggled to reckon with the glamorous but also highly competitive and dangerous sprawl of L.A. Intermingled with his canny observations was the rise of cannabis culture both in clubs and in the every-day lives of Los Angelenos.
We spoke with Corona about his sociology background, the differences between New York and Los Angeles, what cannabis means in creating communities, how the curation of cannabis changes its consumption, and the stark contrast between the glamour and grittiness of L.A.
Q
Tell me about you and how you got interested in nightlife and writing about it.
A
I'm a sociologist at California State University in Los Angeles. I moved here in January 2018, which was the same month that cannabis became legal. So, I got to see this industry explode right when I got here. I got my Ph.D. at Columbia, though it was about something completely different, it was about the U.S. Army Officer Core. But I had the misfortune of finishing the same year that the recession hit universities the hardest. In New York I thought I should start looking at scenes I was already curious about, so that's when I started poking around different New York nightlife scenes. What would become my book Night Class: A Downtown Memoir, would emerge from that. I was always curious about how different nightlife in Los Angeles was and had in my mind that I would eventually move here. After the book came out, I thought I was ready for a change.
---
Q
What was it about L.A. that drew you to it?
A
It's funny, when I was packing up boxes from high school that I had in my mom's apartment, I was going through some old journals and I had old applications for jobs in Los Angeles. It was the lure of California and L.A. that's implanted in our minds from shows like Beverly Hills 90210. I was a big fan of that show. We learn so much from pop culture about the kinds of potential lives one can live. It gives us something to aspire to when we see these images on TV or a movie screen. 90120 implanted in my young mind what living here could possibly be like: the sunsets and the ocean, the palm trees.
---
Q
Did it turn out that way?
A
Yeah absolutely. Once I made the decision, I never regretted coming here. I love it here. I love its beauty, it can be a very dark place though. In New York, as important as culture and entertainment are, it's not the heart of the city. The heart of the city will always be finance, real estate and insurance, but L.A. is the world's entertainment capital. It's very clear if you're in the business how much you matter or how little you matter. So that really grinds on you. It really grinds on you that there are very beautiful, wealthy, glamorous people up in those hills and you are not one of them. And the fact that it is so beautiful, you have to discipline yourself. You have to tell yourself, "I'm not going to spend all day at the beach, or smoking, or drinking, I have to practice, I have to refine my craft."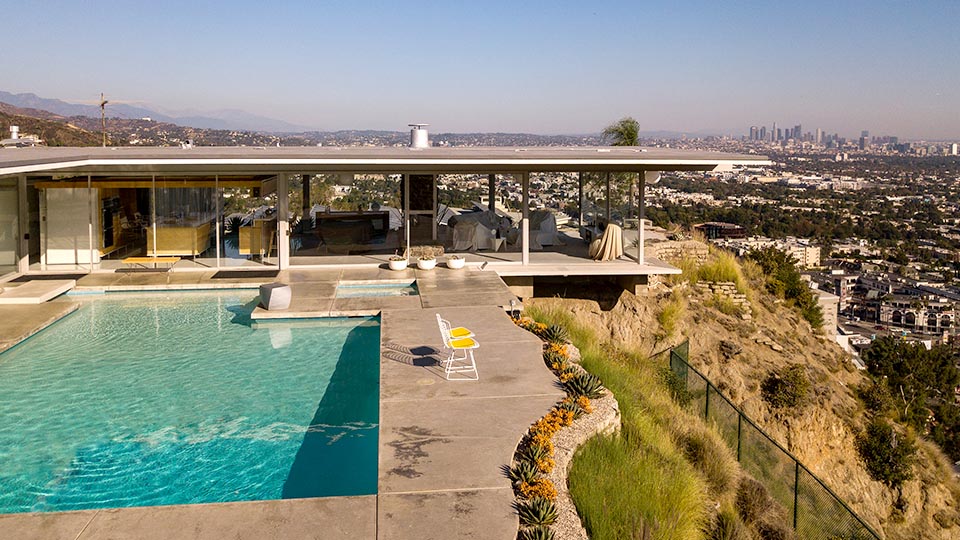 Q
New York is a walking city and I think that makes nightlife more accessible. What difference do you see in L.A.?
A
A big factor for nightlife, and just socializing in general, is the sprawl. So, what is where, and whether or not you're willing to go there is a daily feature of how nightlife operates. But it also ups the ante. You have to offer people an experience, a spectacle, a scene that then makes their trip worth it.
---
Q
When you first got to L.A., cannabis had just become recreational and you saw some of the explosion of that. What was that like?
A
Well, for a New Yorker, it was just so unusual to see it so routinely incorporated into people's lives. To see those green crosses everywhere you go. And the fact that you smell it everywhere. I like to go running in a nearby park at least three times a week, and not once do I go there and not smell it. We are really marking a new era. What will it mean to go to a place that is supposed to have a nightlife feel to it and part of the menu and experience is to smoke? What does it mean to center a lounge, a social space around cannabis? That's a brand-new thing, like a really great social experiment.
---
Q
What is your take on that?
A
As with so much in this city, or in a city like New York, something can quickly become branded for the sake of luxury, for the sake of high-end brands. So, I'm always interested to see things that are supposed to be about organic communication or facilitating social bonds among people packaged in this commercial way. But the proof is in the pudding. If you create a space that doesn't feel elitist and people feel they can consume it for the sake of the experience and not just for the Instagram selfie, not just for the sake to say they did it or they can afford it, then it can be really interesting.
---
Q
So, you're saying when the act, like smoking, becomes what the whole night is wrapped around, it loses some of its luster?
A
Yeah, I think it becomes a bit forced. It's like you're telling people how to have fun. And obviously some people are really into the scene and know a lot about it and they become gatekeepers or tastemakers. It's not necessarily a bad thing, it's how social communities are built. I don't want to sound like I'm scolding. I'm just always a little wary.
---
Q
I get it. It takes some of the fun out of it and the self-exploration out of it. You want to be able to discover these worlds in your own way and have that be part of your night, part of your journey.
A
Right, it becomes a way to show that they know, and you don't. It gets lost in the nomenclature of that scene. If that's what you enjoy, by all means have fun. When it becomes the centerpiece or the premise of the whole excursion it just feels tired.
---
Q
Totally agree. So how do all these observations, all these things you're discovering about L.A. and your personal exploration and journey there, how has that changed you and inspired your writing?
A
I'm about a third done with a book on L.A. performers, actors, singers, artists, strippers. I showed a piece to someone and they said it's much more mellow than my New York book, that L.A. has already imprinted me with a more laid-back vibe. My writing now is trying to solve what for me is a mystery, how a place like Los Angeles can be so enchanting, beautiful and thrilling and yet so dark and so dangerous. I have to reckon with my own place in these worlds.
---
Q
Talking about these two different worlds, what are they? Is it the shining houses in the hills and then the grittiness of everyday life going on beneath them?
A
It's the fact that this is a town filled with people who are very ambitious. Some people who are extremely well-connected and very, very beautiful. Those who do end up famous and have "made it." You are constantly measuring yourself against them and that can breed an extraordinary pathology in people. So, to live in a city that is this huge monument to fame, something people crave so desperately, but no one can prepare for and so many often regret, has been a fascinating time for me as a sociologist. But it's also exhausting, and you can't really escape it.
---
Q
Sounds like there's a reason that California made cannabis recreationally legal, everyone needs to chill out [laughs].
A
[laughs] That's exactly right. There needs to be some balm, some way to soothe these impulses that seem to ravage us.