4
min read
It's nearly impossible to live in Los Angeles without some kind of a desert pilgrimage. For many, it's poolside in Palm Springs. For others, it's a tent in Joshua Tree. It could be a stretch of BLM land with no one around or even Badwater Basin up in Death Valley.
For me, it's Pappy & Harriet's. One of the uniquely Californian things I've stumbled upon in my dirt road outings is this concert venue bar and grill that is – for all intents and purposes – in the middle of nowhere.
On my way for an annual trip, after making the most of the spaghetti-against-the-wall sprawl of highways between the Palm Desert and LA, I stopped at The Leaf outside of Palm Springs. I purchased the Canndescent flight pack of pre-rolls, knowing that I'll be equipped for whatever the situation requires. Then I hopped back on the Twentynine Palms Highway and headed due east, over the mountain pass, to the high desert.
Pappy & Harriet's is in Pioneertown. What else is? A dirt main road featuring local art stores, two quite lucky private residences, and a couple event spaces (a barn and a bowling alley).
Oh, there's also a motel that's been featured in the New York Times. Lore from musician friends has it that once upon a time Pappy's owned the Pioneertown Motel and, if you were lucky enough to have your band's name on the marquee, all you had to do for a night's sleep was stumble across the dirt parking lot to your room at the motel.
Not so much anymore as both spots have been blown up to a bit of cult standing with appearances from Paul McCartney, Robert Plant, and more big name acts to count. There's a bit of money to be made and the motel rooms are worth a pretty penny.
The town itself was built in the '40s as a movie set for Gene Autry, the town saloon being what is now Pappy & Harriet's. Since then, Pappy's has changed names and hands a few times, essentially becoming a desert biker bar/honky tonk accessible only by word of mouth or to those who took the wrong way to get to where they want to be. It, like its reputation, grew over the decades to the destination it is now.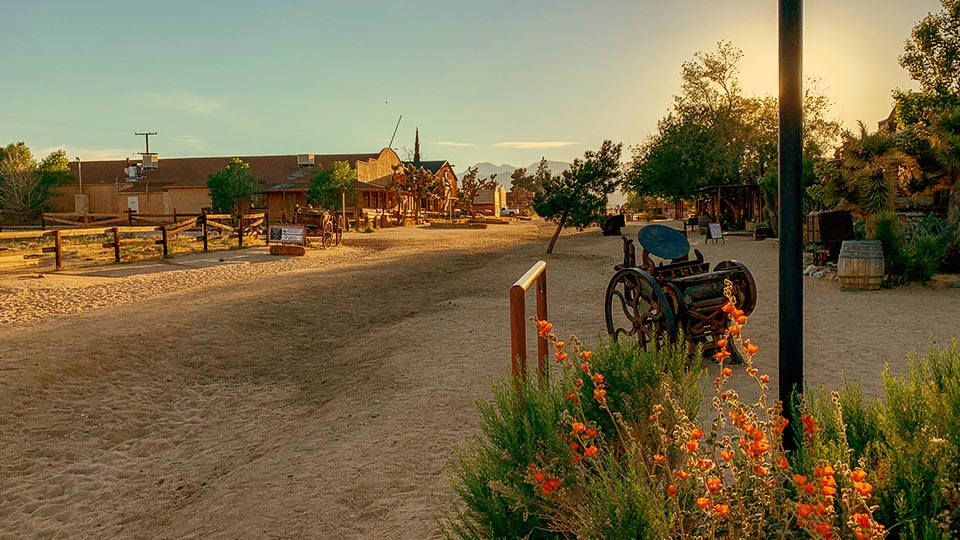 Walking down main street Pioneertown at sundown is a treat, especially after lighting up Canndescent's Connect pre-roll. Rimrock, the next "town," is full of foothills and mesas from the back side of Big Bear. It's a fantastic opportunity to get high, decompress, watch the colors change over the Joshua Trees, sage scrub, and prickly pears before your show.
The central anchor of this square mile or two is Pappy's, which is as close to an oasis as you may find. Rising from the desert, this meandering, wooden-floored, BBQ-smoke-drenched beer hall has drinks, good food, and even better bands.
There's a back patio with ample seating, standing, and wandering around space. It's next to the brilliantly-massive BBQ pit that's constantly wafting oaky deliciousness with the sizzle of steak fat dripping onto hot coals. Bands often loiter there, as the easiest stage access door is under a large light in a little nook guarded by a bouncer and crowded with guitar boxes and drums.
There's also a second stage outside that looks like an old west ruin with brick poking through crumbling white paint and a partial roof covering a stage and picnic tables, the rest of the area left open to the stars.
Inside, desert dust is strewn about by cowboy boots and beer flows like water from a spring. When I asked the bartender whether I should get the corn or the mashed potatoes as a side to my skirt steak it stopped her in her tracks during an unusually busy hour. After a second or two of deep contemplation, she went with the mashed potatoes. She wasn't wrong. They never are.
As is expected, the specialty is steak. The ribeye seems to be as thick as two hands and wide as a beavertail cactus pad. It's the most popular item I saw on tables.
A steak dinner, drinks, and a show at a place as singularly unique and special as this makes the trek worth it and then some. Add a night at the motel and you got yourself a perfect desert getaway without a lick of chlorine, sugar-saturated tiki cocktails, or Palm Springs traffic.