4
min read
Almost a year ago, the Sonoma County Fairgrounds was home to the very first Hall of Flowers. A canna-convention that promised to bring the cannabis industry into the 21st century by connecting those who made and cultivated the very best, with the buyers and dispensary owners that could get their lovingly crafted product into the hands of the people most excited to have it. It seems like a simple proposition, possibly even a boring one considering it's deceptively B2B purpose and attendees. But after three wildly successful "seasons", the term the HoF crew uses to dub each iteration, it's abundantly clear– there is nothing boring about the Hall of Flowers.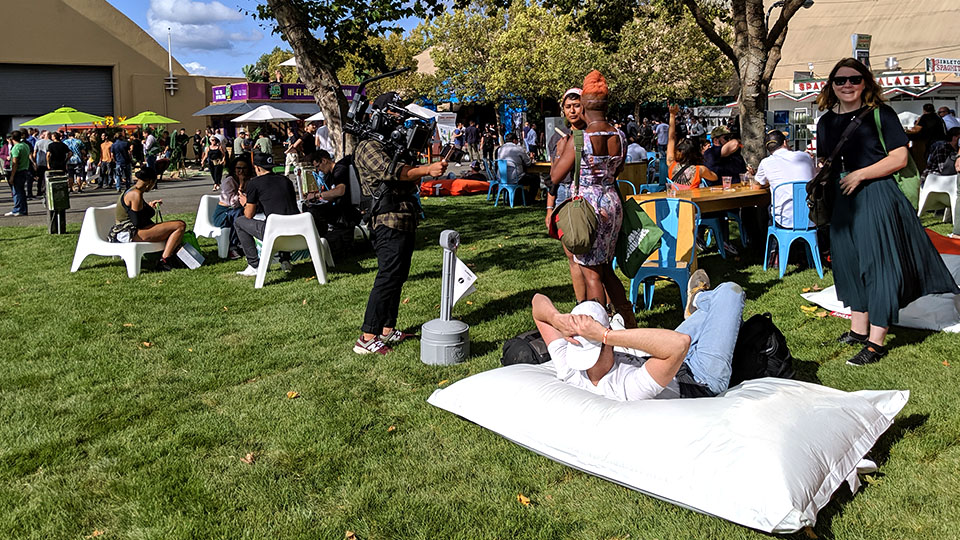 I made it to the Sonoma County Fair before noon. I was lucky, having taken a slightly too early flight out of Long Beach before the sun came up, the slight inconvenience giving me enough time to absorb the time added by the multi-car blockage on the 101 that stifled all traffic coming up from the Bay Area's more densely populated areas. My early flight time also helped me avoid a slew of flight cancellations that grounded many of my fellow LA-borne attendees. Ultimately, there was an unfortunate slew of circumstances that pushed the bulk of Hall-goers late. So by the time I made it into the fairgrounds, the muted attendance and open areas made me feel like I'd snuck into a big party before it started.
The convention was split into three exhibition halls, two outdoor cannabis vendor areas, a food truck lot, a "dispensary" (more on that later) and a few shaded courtyards for relaxing, eating and consuming. It's the perfect set-up for distributors, dispensary owners, and anyone with an interest in the best and newest products in the cannabis industry. Attendees can wander the never-ending exhibition halls and vendor stands, get a feel for the 200+ brands by speaking to cultivators, sales reps, creative directors and executives. Along with budding cannabis CEO Seth Rogen and a star-studded speaker lineup that included famed talent manager Shep Gordon, cannabis trailblazers like Miss Grass' Kate Miller and Van Der Pop's April Pride; everyone shows up for a chance to partake in the part-business, part-play weekend.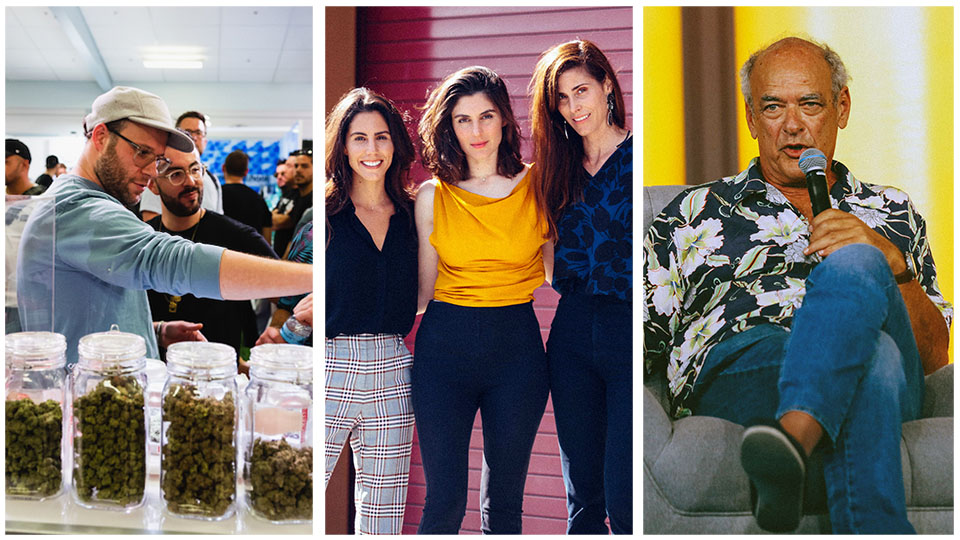 Because after visiting any brand, you walk away with a barcode ticket specific to the brand and product, which you can cash in at the "dispensary" for products at steep Hall of Flowers discount. Or more specifically, the legally required minimum transaction to dispense cannabis products freely. This makes exploring brands and their new offerings a concrete experience– not just taking a sales rep's word for it, but taking the goods out for a test drive, in a pleasant and welcoming environment.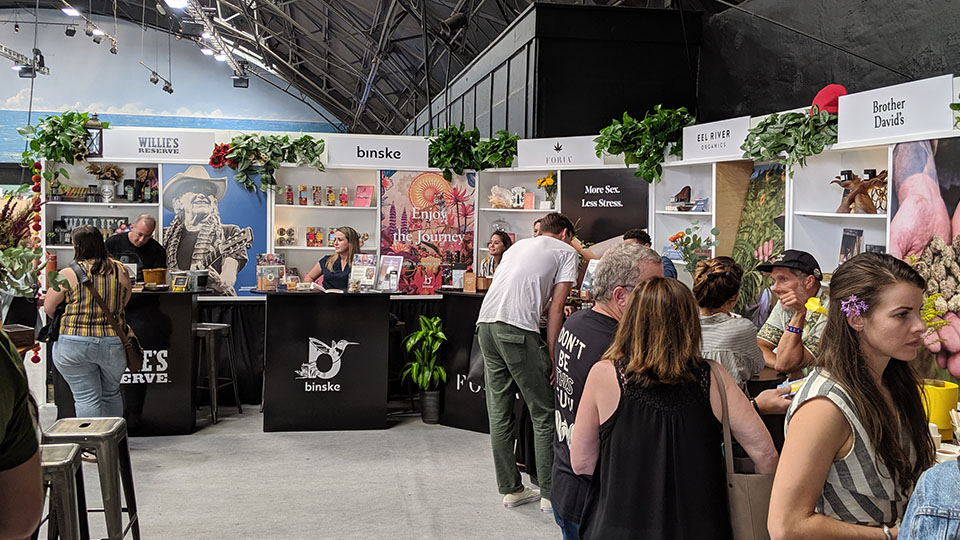 The three exhibition halls were split into A, B and C. In terms of sheer square footage, Hall A was easily the smallest of the bunch. Hall A was reserved for some of the more established brands in the game, showcasing their newest offerings like Lowell's cold-pressed cannabis oil vape pen, Dosist's new-age PEZ dispenser for edible pastilles, the new Good Brands flower line or PLUS gummies new ratios and flavors.
However, Halls B and C are by no means an afterthought, and played host to the majority of the vendors for the weekend. Walking into these halls was like entering an ocean of brands as far as the eye could see, all collected under their hangar-esque, exposed convention hall ceilings. There were established players, like Sunday Goods or Papa & Barkley, and the array of brands sourcing their flower from Flow Kana, like Kikoko, Willie's Reserve and Foria. But there were also newcomers like Besito, the shiny new vape brand out of LA, focused on elevating the voices of people of color, launching in coordination with Equity First Alliance to expunge the records of those most affected by the immoral war on drugs. Other notable newcomers include Pantry, the new confection brand started by NY-based chefs Mike Magliano and the Franks who complimented the debut of their infused almost-Ferrero-Rocher and vegan chocolate bites with an onsite culinary experience, serving reservation-only prefix meals.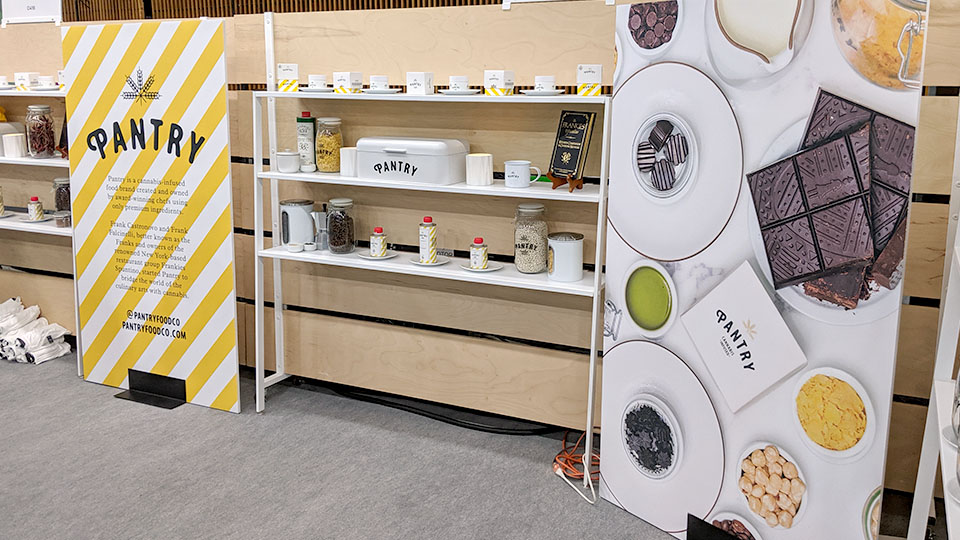 In order to let the actual business-to-business market operate, the first day of Hall of Flowers was restricted to buyers, sellers and press. But the second day is in fact open to the public, or at least those that can get their hands on a ticket. There are rumors the next season might come down to Los Angeles so keep an eye out because you won't want to miss the next one.