3
min read
It's the time of the year. Whether it's your office or your friends, holiday parties are popping up in full force. Ugly sweaters, mulled wine, baked goods, and Christmas hams are all in season as well as a variety of holiday games that put you in a position to either make enemies or lifelong buds.
Regardless, you always want to pick last in the White Elephant/Yankee Swap (depending on where you're from). And if you're doing a Secret Santa, don't be that person who gets ten bottles of Two-Buck Chuck from Trader Joe's. It may be funny at the time, but now you're That Person and whoever you gifted it to is looking around at everyone else's wondering what he's going to do with ten bottles of bad wine.
If you're headed to or hosting a cannabis-friendly party this year, your guests may expect a certain level of quality to what they can enjoy while trying to figure out whether to pick the dog poop-shaped chocolate or the mystery gift card that could be absolutely anything. So without further holiday adornment, here's our three favorite products for your holiday parties whether you're hosting, attending, or someone's a-little-too-soon plus one.

These pre-rolls go down smooth and feel even smoother. Not only are they expertly rolled and provide world-class effects, but their size is perfect for any party. There's a time and place for your friend's hand-rolled giants and sitting mulled wine by the Yule Log YouTube video is not one. These are perfect for active, talkative parties where partaking in a pre-roll is the same as holding a drink – something to do with your hands while you enjoy great company.

There's a reason why mulled wine and spiced porters and stouts are considred winter drinks. Those exotic flavors help warm us up and bring about feelings of happier, hotter days. That's why a great holiday gift (whether it be for the party or the games) is this delicious chocolate bar from Kiva. Smooth milk chocolate spiced with a kick of vanilla and chai makes it invigorating and comforting. Additionally, it's so microdosable it's almost hard for anyone to feel as though they took too much – despite how good it is!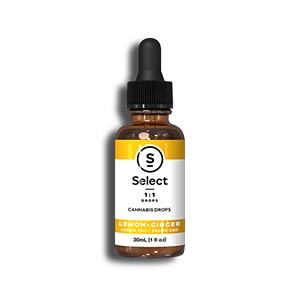 We all know that hosting can be a tough gig, hence why everyone has their own unique ways of coping with the stress. Whether it's ignoring the main staples of certain holidays because, well, it's your party and you can do what you want, or its keeping all your drinks in a bathtub full of ice, oftentimes alcohol and stress relief often go hand in hand.

That's why we recommend this great 1:1 CBD:THC ratio tincture from Select as an optional accompaniment to a large-format drink you make for your guests. The already ginger-forward Moscow Mule or Dark 'n' Stormy are seasonal favorites who's flavor profiles won't suffer from the Lemon Ginger of the drops. Whip up a few gallons and then simply instruct guests to start with one drop in their drink and see where the party takes them.