4
min read
We waded through the matcha cafes and designer boutiques of Abbot Kinney Boulevard in sunny Venice, California, to visit the famous street's newest resident: the dosist wellness experience. Part retail store, part experiential marketing, and part community space—the new dosist wellness experience represents a peek into the future of cannabis as it redefines the retail experience as we know it.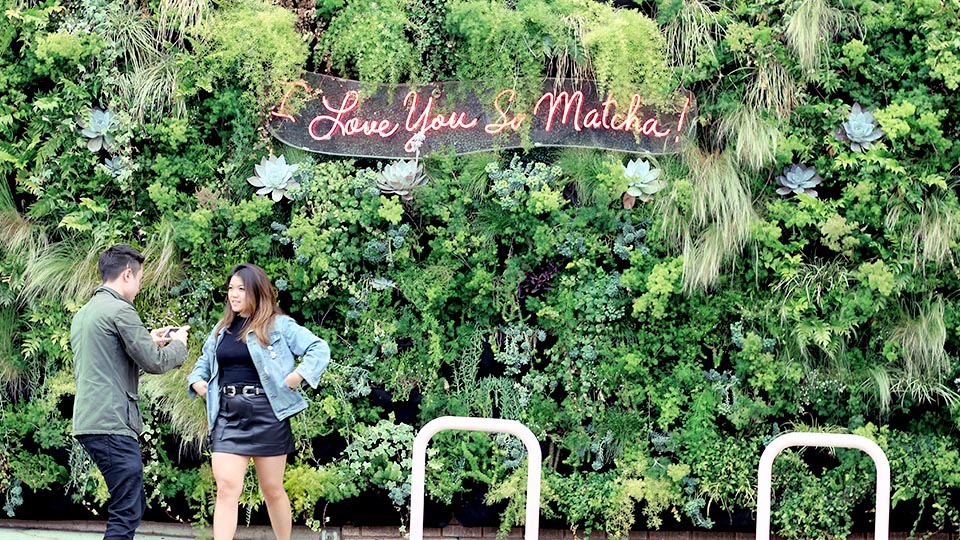 Since its inception, dosist has been an industry leader in the weed-as-wellness trend. Dosist made cannabis industry history by designing the first precise dosage pen that offered control and consistency for new consumers. The sleek and unique device is made from fully recyclable, medical grade plastic. True to their original moniker, all the flower used to make dosist products are still sourced from Humboldt, California. The products in the dosist store are no different from what you'd see at a dispensary, and operate under the same compliance restrictions to ensure all products are pesticide free.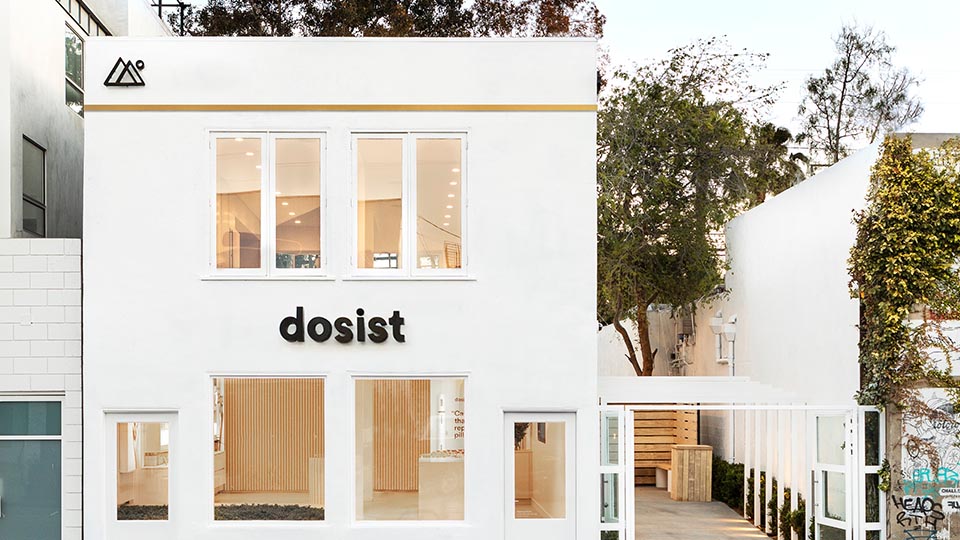 An 800-square foot space that opened its doors in March, the store reflects the same guiding principles of design and precision that made dosist such a unique brand in the first place. Upon entrance, visitors are ushered through a contemporary pergola, where a friendly concierge checks your ID. From there you enter the indoor area, an all-white space made up of limestone and maple-wood.
The dosist products act as both decor and an educational opportunity. Each dosist product has its own "station," with a visual display of the 3 most prominent terpenes found in the product, as well as the CBD to THC ratio illustrated in large bold text. Stand in the store for a few minutes and you can see dosist's vision come to life: Frenchmen discussed the merits of CBD as they soaked in their first California cannabis experience, while an employee explained to a curious first-timer exactly what terpenes were and how they affected your high.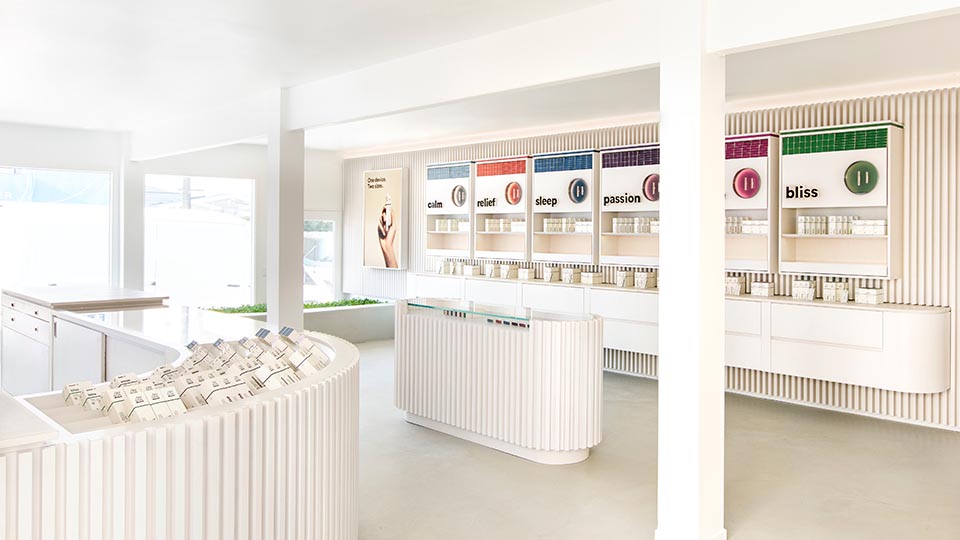 While the popular cannabis dispensary chain, Medmen, is often referred to as the "Apple Store" of cannabis, the new dosist store takes that comparison even further with all-white decor accented by bold colors and rigorously trained staff referred to as "white shirts" (some of whom previously worked at Apple) that meander through the floor space in an unaggressive and approachable way. Even the security guard wears a white shirt: a stark visual difference from the heavily armed and uniformed security officers you'd see at your average dispensary. There is little pressure to buy at the dosist shop, but if you do, employees made sure to tell me about their 100% satisfaction guarantee warranty. These small details make clear dosist is not merely selling products, but reimagining the cannabis retail experience.
If you aren't ready to leave the carefully curated ambiance of the "dosist wellness experience," the outdoor community space behind the store acts as a quiet respite from the crowded Abbot Kinney street filled with tourists. The outdoor area offers free Wifi and sparkling water—details of which make the difference between a retail store and a lifestyle experience. With white canvas couches, succulents abound, and shibori-style accent pillows, the outdoor space exuded a boho minimalism that many likened to a V.I.P. Coachella lounge. When asked whether the space was created with a consumption lounge in mind, one employee responded, "we certainly hope so! Make sure you vote!"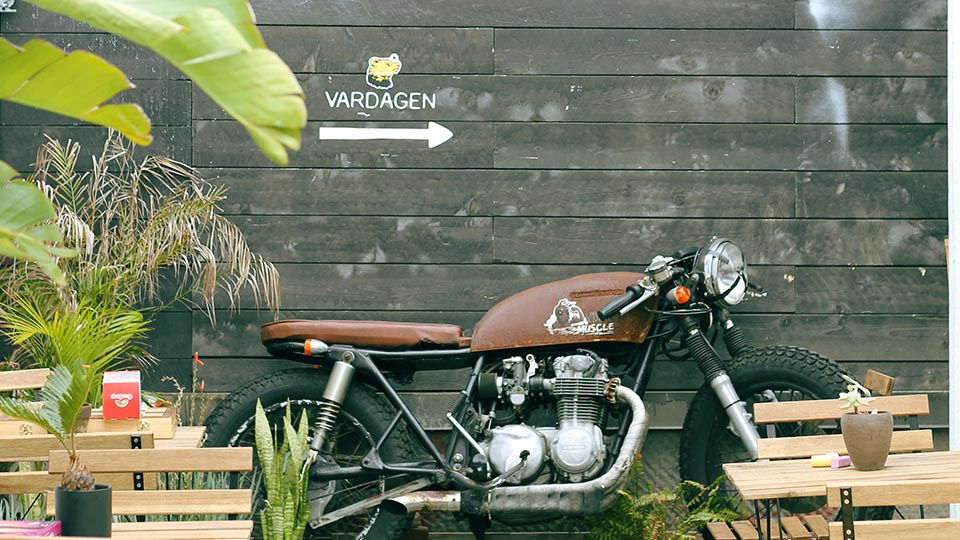 Step foot out of the store and it's clear that cannabis culture has weaved itself into every nook and cranny of Abbot Kinney. You can add CBD to your coffee at the truck across the street or find it in a tincture at Saje Wellness. The historic Greenhouse Smoke Shop just down the road, a testament to how long cannabis has been a part of Venice's history. Even when you're not looking, it'll find you: I even happened upon the High Times Cannabis Cookbook at the backyard boutique, Grow.
Beyond fitting in perfectly with the wellness-focused shops that line Abbot Kinney, the dosist wellness experience represents what California cannabis may look like in the future. While dosist is not the first brand to open a flagship store, it is the first to open in such a premier location catering to new consumers. The shift toward brand-led education and product offerings means it is only a matter of time before we see more flagship stores pop up. In the not-so-distant future, it's possible that dispensaries will be considered the "department stores" of cannabis, while brand flagship stores like dosist will take the title of boutique retail experiences. Dosist sees this future clearly—and is taking the reins.
The dosist wellness experience is located at 1423 Abbot Kinney Blvd, LA. It is now open daily, from 10 a.m. – 9 p.m. Monday to Saturday and 11 a.m. – 7 p.m. on Sundays.