3
min read
Most of us know that cannabis lends itself well to edibles, gummies, and brownies. The more health-conscious among us have probably also experimented with a dash of hemp seed oil in a green smoothie, or toasted hemp hearts tossed through a salad.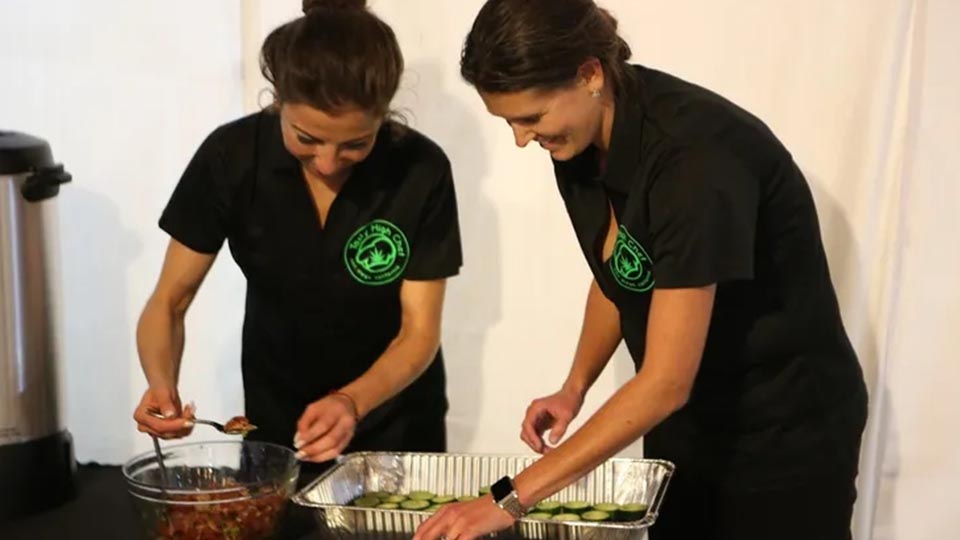 For San Diego cannabis chefs Masha and Claire, life is better infused, and this means any meal can be elevated by the inclusion of cannabis. The two women are co-founders of Tasty High Chef, a gourmet cannabis catering company, and co-creators of ThinkSimpler, a cannabis-infused syrup, and cannabis bar service.
For Masha and Claire, and the rising numbers of chefs enthused about cannabis cuisine, this versatile plant can be incorporated into endless dishes. Think crostini with canna-infused creme-fraiche, canna-buttery mashed potatoes, blue cheese & canna-malized onion sliders, ganja grilled cheese & tomato sandwiches, and canna-dipped strawberries. (Author's note: I spent an indulgent time salivating over the Tasty High Chef's online menus and Instagram posts).

View this post on Instagram
"Cannabis pairs well with, soup, salad, sweets and everything in between," explains Masha. "We believe that all food goes well with cannabis. It's just about finding the right strain."
The two joined forces, inspired by their love of high-end healthy food and their shared belief in the healing power of weed. Masha is a passionate chef with a background in event planning, while Claire comes from a science and research background, and is a master of infusions.
"We believe that all food goes well with cannabis. It's just about finding the right strain."
Their canna-cooking ranges from private meal prep for those wanting to incorporate cannabis into their daily diet, to organic farm-to-table four-course dinners, special occasions, large gatherings or casual brunches.
"When we met it seemed natural to partner up, create infusions and delicious cuisine to help and excite as many people as possible with our culinary cannabis creations," says Claire.
If you want to go full Martha Stewart and try cooking with cannabis at home, the two have some practical recommendations for newbies.
"Always decarb the flower," stresses Masha. For the uninitiated, decarbing refers to decarboxylation. THC acid in fresh or dried flowers is converted into psychoactive THC through heating.
"To preserve the health benefits, we always start with the whole flower," she adds.  "We do slow, long infusions at lower temperatures to ensure as many cannabinoids are available as possible. And always avoid microwaving."
Masha advises to take note of whether you're using indica or sativa in your cooking, as each will bring about a different kind of high. Just as with edibles you purchase in a dispensary, it will take about two hours for the effects of any cannabis-infused dish you prepare at home to kick in.

View this post on Instagram
The pair also emphasizes that using the right combination of ingredients can showcase the flavor of the flower, or subdue it.
"If you'd like a more prominent taste of cannabis, then you want to pair it with milder-tasting ingredients," recommends Claire. "If you are looking to slightly mute the flavor, then team it with strong flavors and spices."
Equally important is an appreciation and awareness of the flavor profiles and terpene content of each strain. Cannaflavins and terpenes both influence how we perceive cannabis on the nose and tastebuds. Terpenes are the organic plant compounds that impart cannabis with its evocative aromas such as pine, citrus, mango, lilac, lavender, and spice.
"We can highlight the features of the strain by pairing it with ingredients which enhance the flavor profile of each dish," explains Masha. "For example, we made an amazing Vermonter sandwich for one of our holiday events and paired it with a pinene-rich stain that added a deliciously woodsy flavor."
Starting out by infusing cannabis in a favorite carrier oil, such as olive oil, can make it super-simple to integrate cannabis into everyday recipes. "Enjoy all the experimenting," Claire encourages. "Don't be afraid to combine different strains to make your perfect blend!"
All Images Courtesy of Tasty High Chef | CC BY