4
min read
Ah, Ventura Boulevard. Forever immortalized in Tom Petty's "Free Fallin'", this old portion of the California Camino Real remains the primary artery of the San Fernando Valley. As a result, it's lined with everything from brand name retail to unique mom-and-pops, some of the best food in the Valley, as well as some of the best dispensaries in the city.
This makes this sunny stretch of LA history the perfect setting for a weekend afternoon. Here's a sample itinerary:
Our first stop, the brand-spanking-new Sweet Flower on Ventura and Colfax. Unlike most establishments in this city, they've even got a dedicated parking lot that's rarely full. It used to be Perennial Holistic: clean, cozy and the budtenders were knowledgeable and attentive. After some downtime and a little elbow grease, Perennial emerged anew as Sweet Flower, thankfully with much of the great staff intact.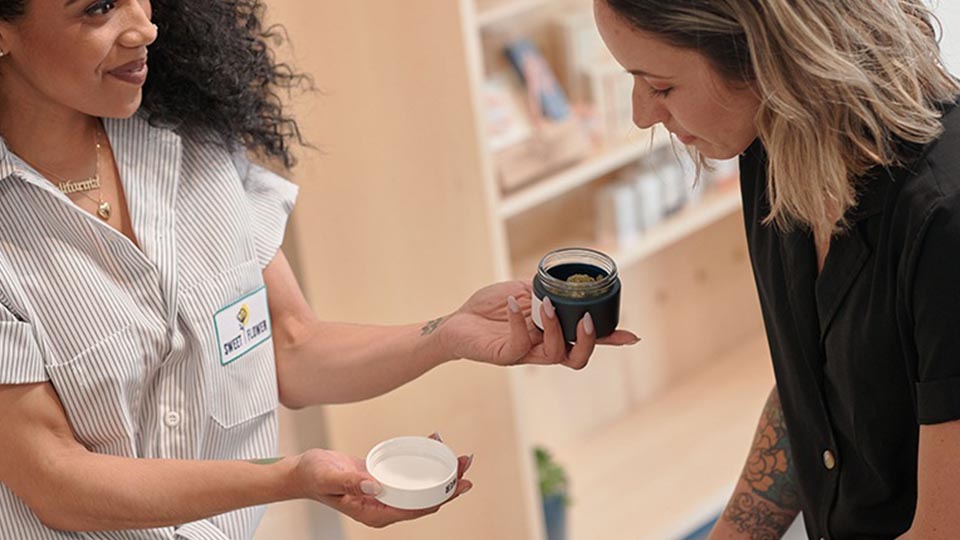 But by knocking down some walls, putting up some floor to ceiling windows, and opting for an open concept retail space, the new look is a warm and welcoming place for new consumers and veterans alike. While you'll still need to check in with ID, there's no longer a doctor's/principal's office style "room", the space has been fully integrated into the rest of the store. It seems like a simple change, but for anyone who's been to a dispensary before, it's refreshing.
Among other steps forward are the demo products that line the shelves, a marked difference between the glass cases you have to ask a budtender to access in most dispensaries. It's the same with the actual flower itself. Built up as the centerpiece of the space, individual uniform nugs of all brands, strains and profiles sit in glass-covered bowls that you can open, handle and smell yourself. Again it's a simple shift, but being able to hold the packaging in your hand and read about it, to browse flower like it's artisan produce rather than being treated like you can't be trusted, it all adds up to help shed stigma and transform the experience for the better.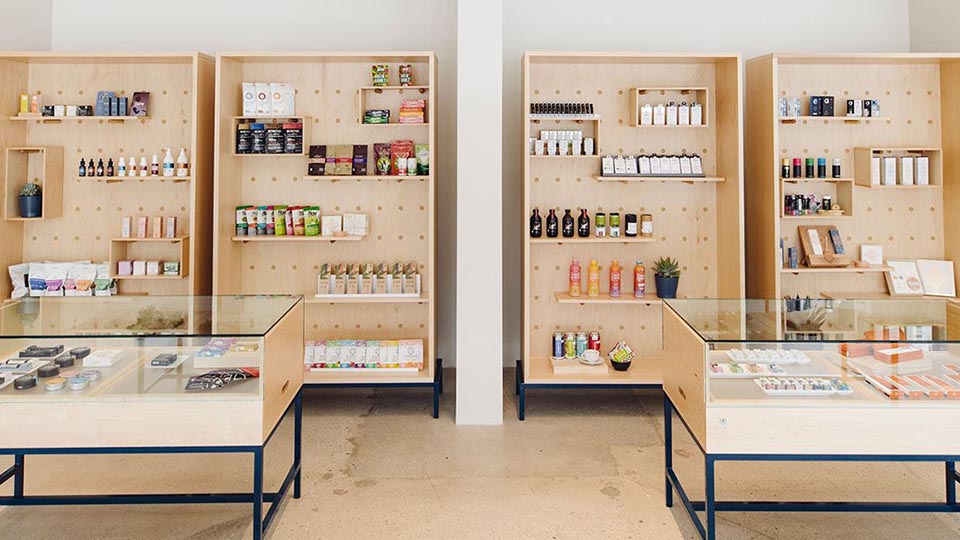 They've got a good selection of all the best brands including every kind of cannabis product under the sun but their flower selection cannot be beat. The selection isn't necessarily exhaustive, but the simple and unobstructive way that the flower is presented and merchandised makes it easier to be truly happy with whatever you chose to take home that day. They also have a great selection of edibles and topicals, and most importantly, products that range all across the THC-heavy to the CBD-heavy so you can really explore the ratio that suits you best. But if you're planning on exploring Ventura, I'd recommend a low-dosage edible or vaporizer; products better suited for a midday outing. Kiva's Terra Bites or Plus Products gummies are easy, light 5mg doses and Sunday Goods makes an array of tasty, disposable vapes with varied THC/CBD ratios.
Alright, so you're all stocked up. Where to next? I've been a hundred times and the question only gets harder to answer. A mere 5 minute walk down the street gives you Barrel & Ashes (a BBQ joint opened by the former chef de cuisine of The French Laundry), a Sushi Stop location (owner Shuji Kimura wakes up at 4am every morning to hand-select fish from the storied Downtown LA Fish Market and then only charges THREE DOLLARS for nigiri) among countless other mouthwatering spots lined up virtually back-to-back. But I'll implore you to walk just a little bit further dear reader, down to the fork where Ventura Boulevard meets Ventura Place.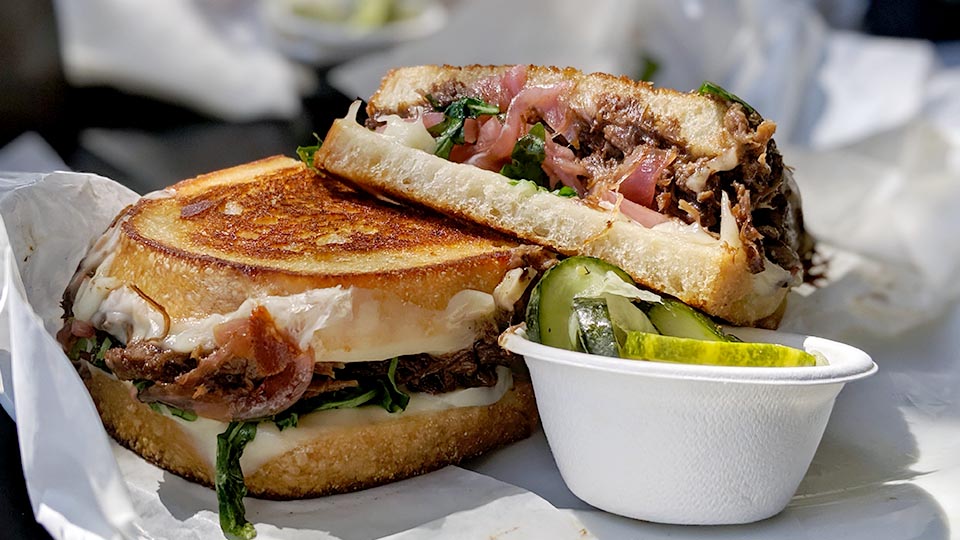 Because tucked behind this San Fernando thoroughfare is a sandwich-and-ice cream double feature that's become my guilty pleasure. First, there's Joan's on Third. Counterpart to the original, celebrity-frequented artisan food marketplace/cafe in Hollywood proper, the beauty of this Studio City location is it's much quieter; the first location's oft-cited worst feature is the sheer amount of people, not to mention Hollywood traffic. The Studio City location has the same five-star sandwiches and salads, without the dull roar of tourists fighting over parking spots and Instagrams. I highly recommend their decadent, just-greasy-enough, Short Rib Sandwich. A healthier option, is their popular Chinese Chicken Salad. (Ok, it's only relatively healthier.)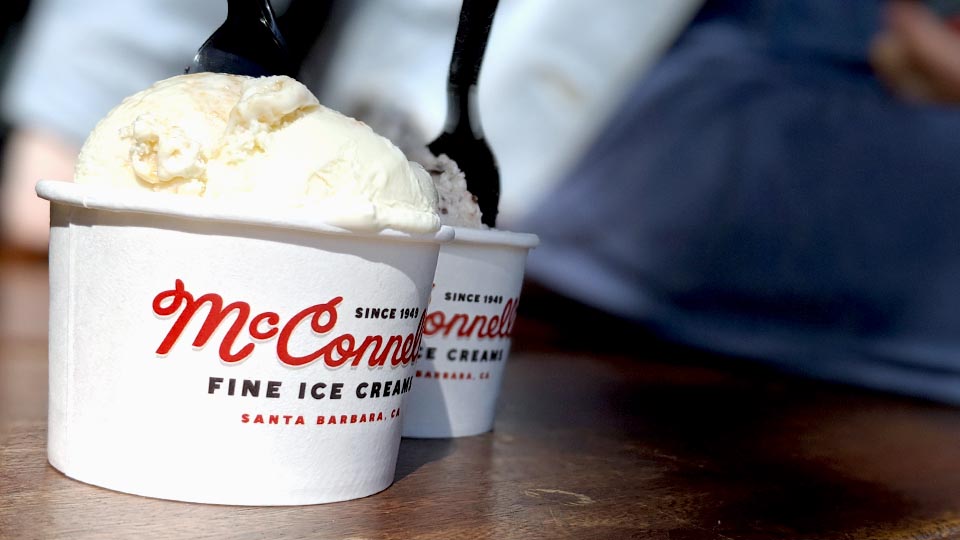 Afterwards, just next door is McConnell's Ice Cream, the now 70 year-old, scratch-made California staple. Though recently more widely available in most halfway decent grocery stores, McConnell's started out of a Santa Barbara dairy, and remains one of the few ice cream brands to actually manufacture their own cream. The Earl Grey & Shortbread, Turkish Coffee and Pistachio Amaretto flavors are some of my favorites and a great pick for those who avoid the uber-sweet. Otherwise, their Double Peanut Butter Chip and Pineapple Rum & Guava Jam are easy, crowd-pleasing slam-dunks. If you're feeling even more adventurous, wander a little further down Ventura Boulevard and try the savory Goat Cheese and Olive-flavored ice cream down at the equally vaunted Salt & Straw. I've never been high enough to enjoy it but maybe you will.