4
min read
Bud & Bloom has the distinct honor of being one of the best looking spaces in SoCal's burgeoning legal dispensary industry, as well as being the first dispensary to approach it's design with new consumers in mind. Especially back in 2016 when Bud & Bloom opened, it was just one amid a sea of sketchy unlicensed dispensaries and licensed ones that hadn't figured out how to create welcoming spaces. In fact, Bud & Bloom might be best known for ranking in the "10 Most Beautiful Dispensaries in America" all the way back in 2017. 
Tucked away in the miles of unending office parks that seem to make up vast stretches of Orange County, it can be easy to miss. The building's exterior is gray and unassuming but there are thankfully plenty of dedicated parking spots. As Santa Ana was one of the first counties to legalize medical cannabis, it now remains the only Orange County city to allow adult-use purchase, so virtually the entirety of Orange County's cannabis supply is clustered in a several block radius.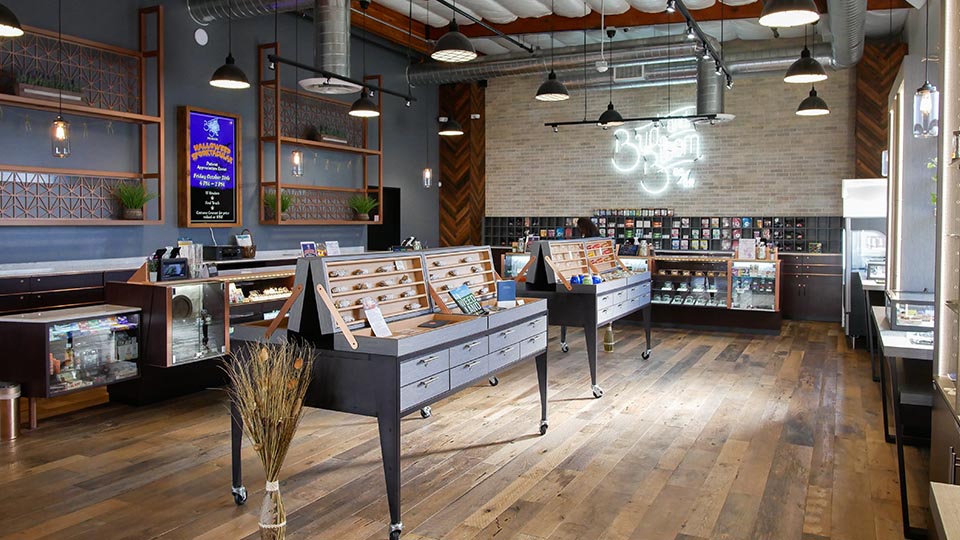 Once you step inside, past the waiting room, you're welcomed with high exposed ceilings and a dark, lively wooden tables openly displaying their full menagerie of colorful edibles. This might seem a common sight nowadays with the rise of new-school dispensaries like Medmen and Sweetflower, but they're biting Bud & Bloom's style. B&B were the first dispensary in Southern California (and as such, possibly the country or world) to free products like edibles from the confines of the budtender access-only glass cases.
What may have seemed an arbitrary difference has entrenched itself as one of the key markers of a dispensary with new consumers in mind. The resemblance to other retail experiences we're familiar with goes a long way in making people, particularly those just entering the space, feel comfortable exploring products on their own. The benefit is not lost on veterans either. Being able to pick up a package, explore it's ingredients, it's design, and it's message — makes you feel more assured in the brand or product you're investing in.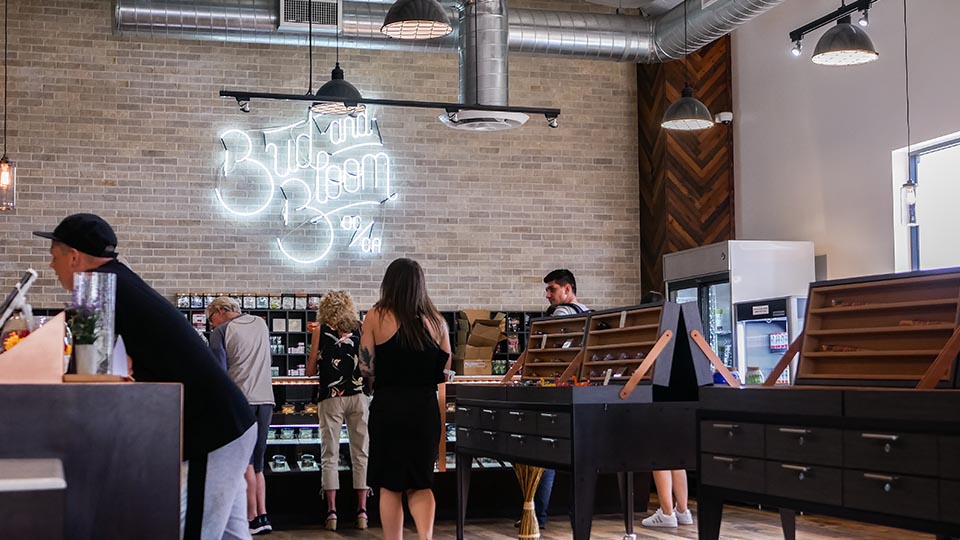 These tables, understandably, are the centerpiece of the space. They feature a rotating selection of some of the most popular brands and their array of flavors and ratios like Kiva's bites, Dr. Norms cookies and Plus gummies along with rising stars like Satori (infused salted caramel almonds coated in dark chocolate anyone?) and Kaneh Co. (they have a chili mango-flavored gummy that brings a unique and quintessential SoCal taste).
The right side of the room features useful accoutrements like candles, PuffCo's torchless concentrate rigs, and rolling trays. Flower and pre-rolls are still tucked behind budtender-only counters, but they always feature a great rotating selection. In fact, Bud & Bloom's pre-roll selection has always felt the most numerous and varied, always sporting at least three or four options from every brand where other dispensaries might often only have one, two or none at all.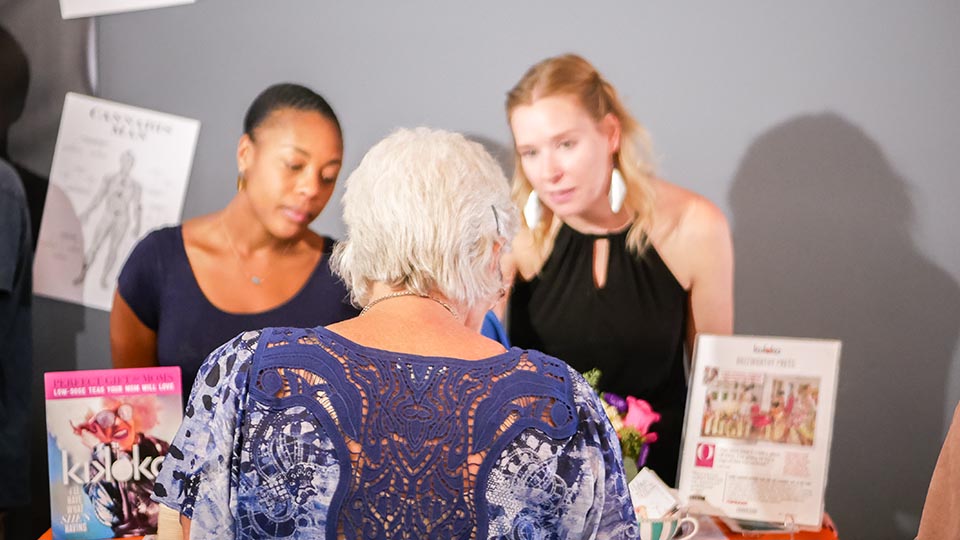 One of the coolest things about Bud & Bloom however, is how they serve the senior community of Orange County. When I walked in, many of the customers were elderly parents accompanied by their adult children — some walking them through their first visit, others just sharing the joy of good craft and product with a loved one. Bud & Bloom not only acknowledges this demographic difference, they encourage it by sponsoring free shuttles from nearby senior living communities like Laguna Woods Village. The simplest medical benefits of cannabis; things like relieving chronic and joint pain, aiding in sleep and appetite, are an easy draw for seniors. Unfortunately, these communities also have some of the toughest stigmas to break. In an interview with CNBC, Sandy Sopher, a senior who uses cannabis for pain, said "I had a neighbor and she doesn't even want to talk to me anymore because she found out I smoke cannabis". Scott Miller, owner of Bud & Bloom knows this, and arranged for the shuttle for these reasons. "The idea here really is to educate. These field trips are not just an opportunity to market to the senior community, but an opportunity to educate. And then they tell their friends, and it grows, it gets attention," said Miller.
All Images Courtesy of Bud & Bloom | CC BY