4
min read
Let's face it: carb-laden alcoholic drinks which leave bloating and blinding hangovers as their calling cards are on the way out. Make no mistake though, any health-conscious goddess still wants to party hard, but party clean. There's no reason why responsible social drinking shouldn't be synonymous with feeling invigorated and enjoying health benefits. Enter mood33 cannabis-infused sparkling tonics, which are reinventing how we drink.
mood33 draws its name from the mood-altering qualities cannabis has long been celebrated for. Current mood-inspired offerings in the mood33 range include Joy, Passion, Calm and Peace, each with meticulously calibrated tinctures/doses of CBD and THC to evoke the selected mood. Expect a bespoke range of new moods each season.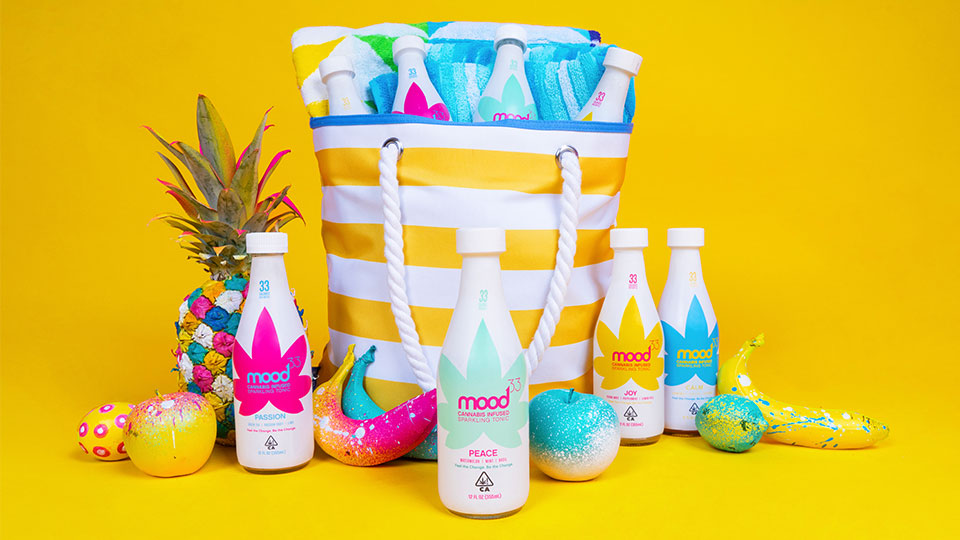 And the 33? For the numerologically inclined among us, 33 has a long history as a metaphysically auspicious number. Thirty-three also nods to the three base flavors of tea, botanicals, flowers or fruit that comprise each mood33 tonic, and the three terpenes carefully selected to complement the flavor base. Those who imbibe mood33 tonics will also appreciate that each full bottle contains only 33 calories.
As a mindfully-curated beverage, the provenance and quality of ingredients matters. The CBD and THC that infuses every tonic supports local economies by sourcing from licensed cultivators in the Mendocino and Sonoma counties. The extraction process is flawless, with triple-lab analysis and testing methodology to ensure that each drop of sparkling cannabinoid goodness is free from pesticides, heavy metals, or unwelcome contaminants.
So how does this drop go down? Like honey. Construct a mental list of all the bad feels associated with alcohol (hangovers, low mood the day after a bender or fogginess anyone?) Now imagine a drink that offers a relaxed and easy social vibe, without the repercussions that often accompany alcohol.
Now imagine a drink that offers a relaxed and easy social vibe, without the repercussions that often accompany alcohol.
Cannabis has long been aligned with engendering a lucid mental state, and reducing stress and pain. What's more, mood33 cannabis-infused sparkling tonics also carry the potent health properties of select cannabis cannabinoids and terpenes. mood33 is crafted with the explicit intention of promoting the wellness benefits of the cannabis plant, in a socially fun and uplifting way.
For the uninitiated who want to experiment with mood33 tonics, a chat with your local dispensary expert can provide helpful insights into the ideal dosage for an optimal first experience. A quarter or half bottle should be perfect if you're a complete or near-newbie to cannabis. If you're more seasoned and enjoy edibles on a regular basis, then a full bottle will deliver an invigorating kick. Expert cannabis users have been known to enjoy several bottles during a night out on the town. In general, a little goes a long way. Start conservatively, then adjust your dose accordingly as you become more familiar with the way the tonic makes you feel.
As a drink range designed with the health-conscious goddess in mind, it makes sense that mood33 is partnered by Brandin Lashea and Jessica Versteeg, two goddesses in their own right. Lashea and Versteeg are both bona fide female figureheads who represent the new contingent of lady bosses dominating the cannabis industry. LaShea hosts the rocking cannabis cooking show Pot Pie, while Versteeg is CEO of Paragon Coin, which creates blockchain solutions for cannabis. No-one knows better than these two ladies what it means to work and play hard while prioritizing self-care. Feeling healthy and living well are firmly at the top of their lists. A night out with mood33 means they can enjoy a refreshment that leaves them feeling refreshed to do life the next day.
So, to all the goddesses out there who haven't yet sipped on a mood33 tonic: go clear some space in your refrigerator as the sultry dog days of summer draw to a close. Our recommendations? Peace offers a subtle flavor hit of watermelon, peppermint, and basil. Formulated with 20 mg CBD and 2 mg of THC, Peace is perfect to have in hand when chilling poolside on a Sunday afternoon. If you're looking for something a little more enlivening before a big night out, Passion is your ticket with 10mg of THC, 2.5 mg of CBD, and a punchy blend of sweet passionfruit, tart lime and sparkling green tea. Find mood33 at selected licensed cannabis retailers throughout the state of California.