4
min read
Cannabis stereotypes are kinda funny. Activities commonly associated with the plant are couchsurfing and, also, actual surfing. You're sitting on the curb outside 7/11 eating a taquito in silence or you're sitting under a rock wall figuring out how to climb to the top.
But, as a climber and cannabis consumer, I'm also none of those. Due to cultural acceptance, the stereotypes of cannabis are finally being bucked after a long eight-second ride.
I've been climbing for a few years and I've certainly seen a good percentage of people at the crag (both in and outside) getting higher than the rocks they're climbing. But, despite the common trope that climbers are constantly high and stoked on the gnar, I've never actually mixed both.
So I got myself a hybrid pre-roll from the fine folks at Good brands (born out of the finer folks at Canndescent) and set forth to my local, softly-padded climbing gym to test the waters of climbing and smoking without the risk of climbing, smoking, and then dying somewhere outside Los Angeles next to a rock because I was too high to adhere to basic safety standards. A small precaution that would come in handy later on.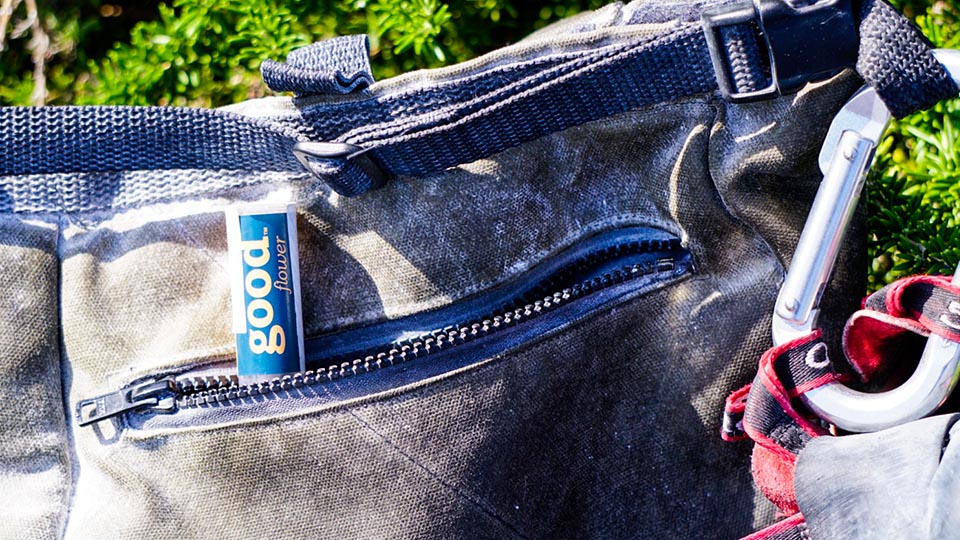 After enjoying some of the pre-roll in the parking lot (not all of it, mind you – only enough to get high), I warmed up on easy problems (climbing lingo for a "route" but in bouldering they're shorter, more athletic, intense puzzles). It wasn't until after I warmed up when I started to feel high.
Once the high set in, it took me a minute to figure out what was going on. I felt sluggish, as if I were climbing out of molasses. Yet, my technique and focus were on point. Better, actually, than usual.
I felt more in control on the wall but, also, as if I were wearing a weighted blanket on Sunday night with a glass of wine. I felt annoyed to get my heart rate up but determined to climb.
Then I realized, I'm high. This is what this high feels like.
Goodbrands pinpointed this strain of hybrid to bring up your mental focus and turn down your physicality. Rather than try to solve a jigsaw puzzle or throw some mugs on the pottery wheel — activities probably better-suited for this pre-roll — I was trying to scale a wooden wall on plastic holds.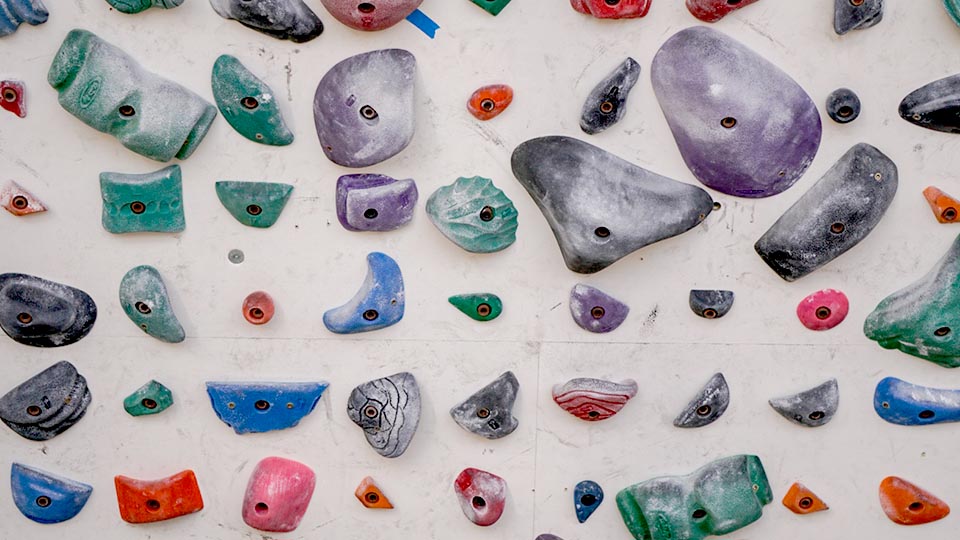 I decided to roll with it and I'm glad I did. A climbing buddy once told me that in order to achieve optimal flow state (aka being in "the zone") you have to be four percent out of your comfort zone. Any more and you'll bail, any less and you'll get bored. I asked him how to quantify that and his insight kinda fell apart.
Regardless of the percent of comfort zone departure I was in felt as if I was in the zone – but also too heavy.
I tried new things in my climbing, did things I don't normally do and maybe wouldn't have done sober. I fell more than usual (good thing I stuck to the gym), but falling felt less risky and more a product of determination and progress. I felt compelled to push the envelope with technique and risk. My footwork felt impeccable and my body positioning was more fluid than usual.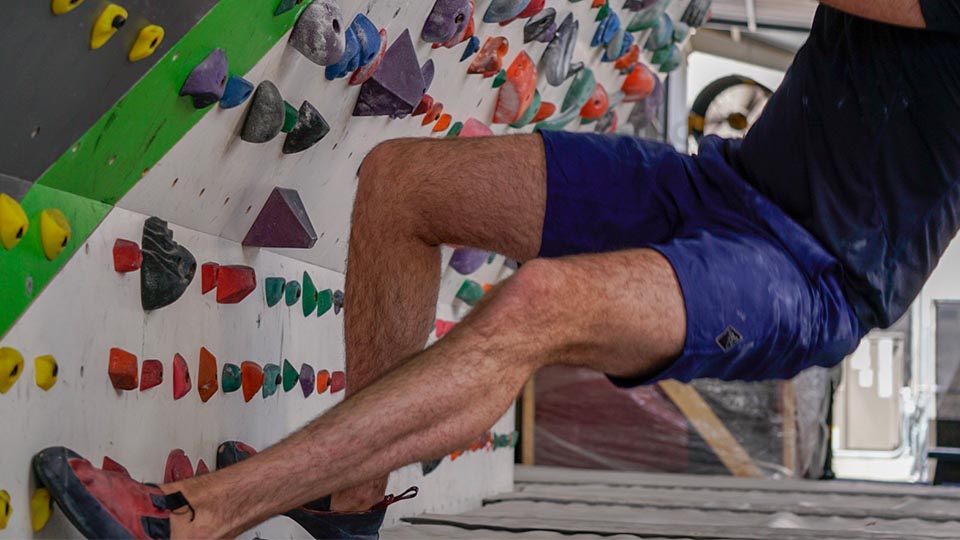 But I also didn't want to try hard. All technique, no strength.
But I also didn't want to try hard. All technique, no strength.
Regardless of whether I sent any projects or not, the fact that I felt enabled to seek out different methods in my climbing feels like it was a win. Would I do a different strain next time? Absolutely. Did I walk away better at climbing? Actually, probably.
Then again, how often do we see the trope of reality vs. my high perception of reality? It's easy to chalk this up to "of course it felt like I was climbing well because even the Big Bang Theory can be funny when you're high."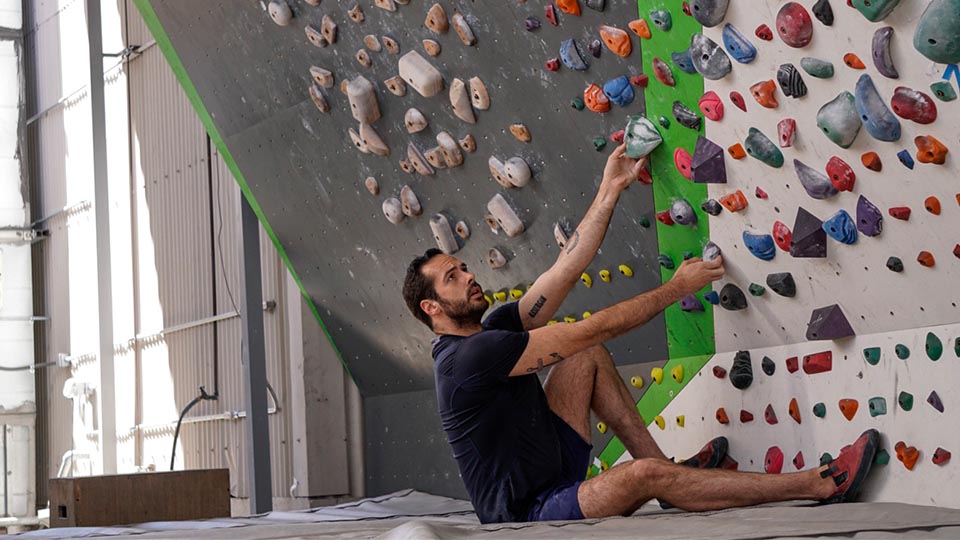 But isn't the whole point of climbing to challenge yourself where you are on that day? You have to balance a crimp-thin line where you accept your limitations (so you don't die) while also challenging them. On this day and at that moment I was walking that line better than usual.
Which is another cannabis stereotype actually worth riding longer: the ability to expand your mind and yourself more than you would sober. Regardless of which problems I crossed off my list, the session itself was a success in the fact that my journey as a climber progressed.
If you want to see for yourself if climbing and partaking can work for you, check out some of our favorite pre-rolls or vapes to enjoy at the crag. Also, make sure to learn how microdosing is probably the best strategy for tackling your climbing projects while using cannabis.